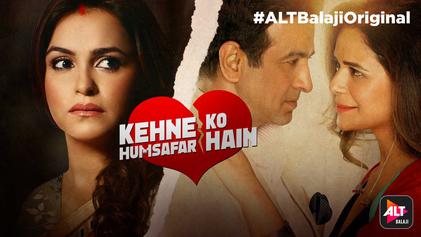 Kehne Ko Humsafar Hain 5th May 2020 Written Update on Tellyexpress.com
Nikki does the decorations and Dadi asks her how much more she will do. Meerabua tells Dadi that these kind of decorations are done during Christmas and New Year.Bani waits for Arya and asks Nikki if he will come. Arya arrives, Bani goes and hugs him. She asks him how she is looking and Dadi comes and asks her to wear something or she will catch cold. Arya goes to take a drink. Abhimanyu arrives and is greeted by Sheena. Abhimanyu gets to know that Poonam doesn't know that he is here. Sheena says that she knows that their relationship has gone a step ahead but Abhimanyu didn't have any clue of what she is saying.
Abhimanyu tells her that he and Poonam broke up but she says that something happened after that too and she is aware of it. Sheena introduces him to the family as her friend. Dadi gets surprised as she thought he was Bani's friend. Poonam and Abhimanyu see each other and Sheena takes him away from family. Rohit and Ananya arrive with Vandy and Cherry and Ananya praises the decoration. She and her friends go to meet Dadi and Rohit spots Abhimanyu.Rohit meets Gurinder, he asks Rohit about Abhimanyu. Rohit tells him that he is the one who was with Poonam.
Ananya talks to her friends and Cherry tells them that Abhimanyu is here and says that Poonam is very bold. Cherry tells them that her special guest is to arrive and he has a huge reputation in the music industry.Vandy asks Ananya about her pregnancy test but she tells her that the lab is closed but she takes out a test kit and shows her. That moment Dadi sees it and thinks it is a thermometer and asks Ananya if she is ill.They all try to cover up and Ananya takes Dadi for a drink and Dadi asks about Rohit.Rohit goes to find Poonam and goes to her room. He asks about the issues between her and Abhimanyu but she says that she didn't know he was coming and Sheena called him.
Rohit asks her why Sheena called him so she tells that Sheena thinks that she was with Abhi that night.Ananya having Vandy with hercomes to use washroom and hears Rohit and Poonam talking so she goes to the other washroom.Vandy gets Cherry's call and gets excited and tells Ananya that she is going out to meet Cherry's friend. Meanwhile Poonam says to Rohit that she can't to party till Abhi is there and asks him to go and send Sheena. Sheena comes in finding her and Poonam takes her to her room. Poonam confronts her about calling Abhimanyu but Sheena says that she is fighting with the only guy she slept with after a long time.
Poonam tells Sheena that she didn't sleep with Abhi and Sheena asks who was the guy but she doesn't tell. That time Ananya comes out of the washroom and goes out. Poonam exclaims that Ananya heard everything and Sheena asks what's the big deal, Poonam gives her a look and Sheena realizes she slept with Rohit. While Cherry and Vandy have a chat with Faizal. He sees Bani and she sees him and he goes to meet her. They talk and Faizal tries to flirt with her but she tells him she is married.Ananya comes and tells Vandy that Poonam didn't make out with Abhi.
Sheena asks Poonam to calm down and Poonam asks her to handle Abhi. Sheena goes leaving Poonam stressed. Bani comes and asks Arya for a dance, they go to the dance floor and Bani tries to make him dance but Arya says he wants to tell her something but she doesn't listen.Abhi comes to meet Rohit and asks about Poonam.Ananya and Vandy see Sheena taking Abhi somewhere and Ananya feels something's not right. The episode ends.