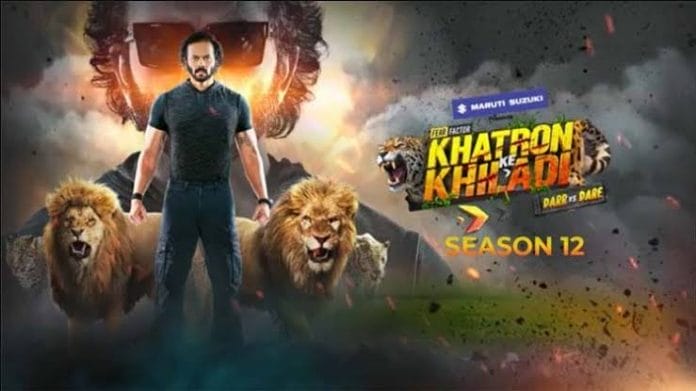 Khatron Ke Khiladi 12 21st August 2022 Written Update on TellyExpress.com
The episode starts with Rohit playing a prank on Faisu. He announces the first stunt which is a partner stunt. A contestant will be hanging upside down and will get immersed in and out of water continuously. The other contestant must collect the three keys from a glass box with thread passing current in it. After taking thw keys the contestant must unlock a saw and using the saw the contestant must cut the rope of the contestant tied upside down. The contestant will fall into water to complete the stunt.
The contestant chosen for the stunt are Kanika and Nishant and Sriti Jha and Rajeev are the partners. Rohit asks Kanika if she wants to use her k medal but she refuses. First Kanika and Nishant performs the stunt. Kanika hangs upside down while Nishant gets the keys. They complete it successfully. Next Rajeev and Sriti performs the stunt where Sriti is hung upside down. She aborts as Rajeev took lots of time to unlock the keys. Kanika and Nishant gets rid off their feast funds.
Next Rohit announces the stunt first for all fear funda contestants. A chopper is shown flying above with a bet tied to it. The contestant must climb down the net and collect the five flags and should jump in the water to complete the stunt. Due to injury, Rajeev gets to choose his proxy. He chooses Faisu. Sriti, Mohit and Faisu perform the stunt and Faisu becomes the winner. Rajeev gets rid off his fear funda.
Finally it's between Sriti and Mohit and Kanika gets the power to save one among them by saying another name in place of them. Kanika chooses Mohit and choose Jannat in the place of her. Two platforms much above water is shown and a swing is present between it. The contestant must manually swing it using their body and should jump to one platform and collect the flag and should jump to another platform to hook it.
The contestant must continue it for all 10 flags and the one who completes it in maximum time gets eliminated. First Jannat performs the stunt and collects flags. Next Sriti performs the stunt but she couldn't get the courage to jump in the platform. She aborts the stunt and gets eliminated from the show.
Click to read