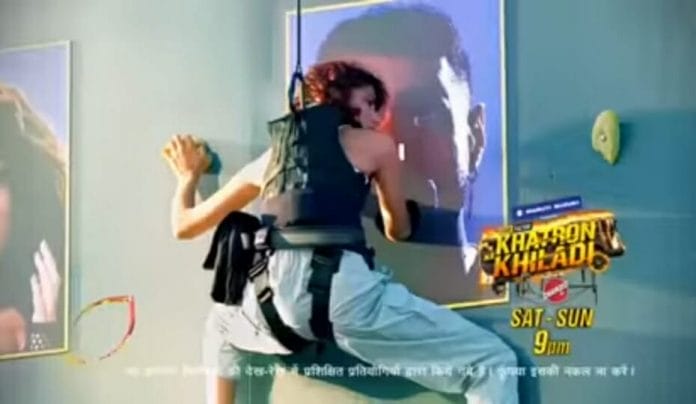 Khatron Ke Khiladi Spoilers, Upcoming Story, Latest Gossip , Future Story, Latest News and Upcoming Twist on tellyexpress.com

Colors TV popular show Khatron Ke Khiladi is back with season 12 with an impressive set of contestants as every year. It is the second week of the show but with a twist. In this week the contestants will have to complete the stunt within Rohit's target to earn stars from Rohit. If the contestants have more stars than the one with Rohit's then this week they will be free from elimination. In today's episode the contestants managed to earn only two stars out of four.
In the recent episode we witnessed, Rubina and Jannat performed a dynamic stunt within a target of answering of three questions within four minutes. Rubina failed the stunt as she failed to even unlock the boxes. Jannat managed to answer the questions but didn't compete the target.
However considering her efforts, Rohit gave a star for Jannat. Next is an animal stunt performed by Rajeev and Mohit. The target set by Rohit is they need to collect 10 discs in 10 minutes. Only Rajeev managed to complete the target in 7 minutes and earned a star.
Mohit collected only 5 discs in 10 minutes. The final stunt was given for Shivangi, Aneri and Kanika. The target set for the stunt is 6 minutes. Shivangi completed the stunt but Aneri couldn't. Kanika is yet to perform.
In tomorrow's episode we will witness Sriti performing a height stunt where she will crawl on a board with a animals on the other side of the board. The other side will not be visible and Sriti will have to insert her hand and collect the flags through the holes.
Everyone when she inserts her hand she will apologise the animals which will turn out to be a comic moment.
Who do you think will win this season of kkk? Who's your favourite contestant of the season? Who do you think will get eliminated next?
Share your views in the comments section below.