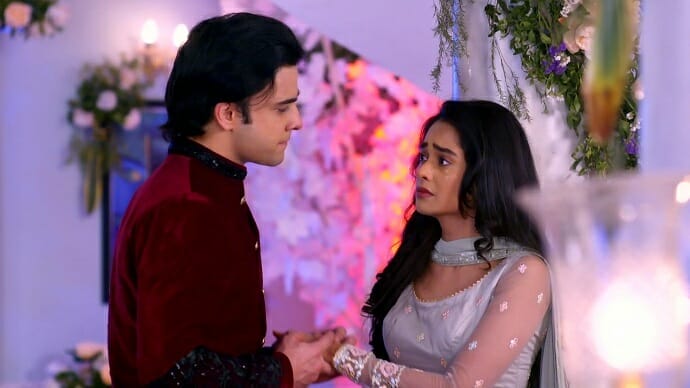 Kumkum Bhagya 10th August 2022 Written Update On TellyExpress.com
The episode starts with Pallavi raising her hand at Rhea. Alia stops her and asks her to not raise her hand. Pallavi says it's needed to answer her rude behavior. Alia says Rhea is raising her voice against injustice. She warns Pallavi to not repeat her mistake otherwise we will file a domestic violence case. Rhea says no girl cal divorce her husband. Pallavi says you just need to sign the papers. Alia says you find Prachi is pregnant and assume she is carrying a baby boy that's why you're doing it. Pallavi says she won't think in that way. You guys know what my intentions are. Rhea says the matter is ended and I won't divorce Ranbir. Pallavi says she is doing a mistake. Ranbir asks them to stop. He says he wants a divorce. He leaves.
Ranbir enters the room in worry. Aryan and Shahana ask what's he searching for. Ranbir says he is searching for divorce papers where he took Rhea's sign as now Mom wants it too. They get excited when Ranbir gets the papers. Rhea asks Prachi to be happy as Ranbir wants to divorce me so celebrate. Prachi says she is not smiling. Rhea says you want it from day one. You came here to separate Ranbir from me and I don't leave any chance to teach a lesson to you. Prachi cries.
Ranbir comes there and tells Prachi that the crying phase is over, now a new phase will start, where you and I will be there. He says I have taken divorce from Rhea. Everyone gets shocked. Rhea asks how is it possible as she tears the divorce. Ranbir says you signed them long break. He shows her a sign as proof and says whatever relationship we had is over. And now you have to leave from the house. Rhea is shocked. Ranbir takes Prachi with him to the dining table. Everyone goes to eat tiffin. Rhea gets angry.
Alia reaches someplace. Where she takes some parcel from hoodie man. Rhea announced she won't leave the house at any cost. She asks Ranbir when she signed the papers. Ranbir tells her he took her sign at the merger party by spiking her drink like she did with Prachi. He asks her to see her sign. Rhea says to Prachi that she changed Ranbir. Ranbir says Prachi doesn't know anything and it's called Karma and I didn't reveal it because Prachi may scold me for leaving you after finding out about her pregnancy. Rhea says Prachi did everything behind my back but I will do it infront of everyone. She burns divorce papers. Ranbir stops her.
Rhea throws half burnt papers at Prachi. Ranbir tells Rhea that he is not liking the way she treats Prachi. He warns her to stay away from Prachi. Rhea says I'm not like the way you're treating me and you can't respect me as your wife but at least respect me as your baby's mother. Ranbir says he can't fight with her and you know whom I consider as a wife. Rhea says he won't get a divorce with these papers as these papers have no value as I signed them in an inebriated state. Daljeet asks Rhea how can she stay in a loveless marriage and legally Ranbir is Prachi's husband, not yours. Alia comes there and praises Dida's point. She says you guys will be punished for keeping Rhea in dark. Prachi says Rhea knows that we are not divorced.
Rhea says to everyone that she doesn't believe in these papers. We made Saath phere and when we have maang in our Sindhur it means we are married. Vikram says let's just sit down and talk by arguing like this we will not get anywhere. Pallavi says Rhea to calm down and control her anger. Pallavi tries to take Rhea to a side and talk to her but Alia stops Pallavi. Alia says when you insulted infront of everyone then you have to talk infront of everyone. Pallavi reveals that Prachi's pregnancy is complicated the doctor told me about it. Pallavi apologizes to Prachi for revealing this. Alia also asks Rhea to reveal the truth. Rhea says sorry to Prachi and says she has to reveal this but you never went out of this house no matter how many times I asked you. Rhea says if Prachi went of the house she will be with her unborn child's father.
Episode ends.
Also See: