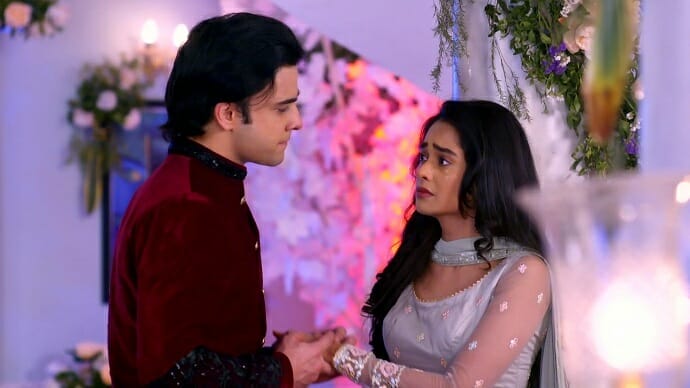 Kumkum Bhagya 11th August 2022 Written Update On TellyExpress.com
The episode starts with Rhea saying she didn't reveal about Prachi thinking about her complicated pregnancy and I wish her to leave the house so she can stay with the father of her baby. Everyone gets shocked. Rhea says it's a mistake of Ranbir too as he is saying he is the father of Prachi's baby so Prachi forgot the truth. Ranbir shouts at her. Rhea says truth won't change if you shout at me and Prachi wants to go away from here, as she wanted to stay with her baby's real father which is none other than Sid. Dida, Vikram, and Pallavi scold her for a baseless accusation.
Dida says she wants to throw her out. Prachi slaps Rhea. She tells she won't stay quiet if she points out her motherhood and the identity of her baby. Rhea says enough of your drama until now I hid this truth but now I will prove to everyone that you're carrying Sid's baby and your baby is illegitimate. Prachi in anger says Rhea. Rhea says shut up until now I bear everything as your sister but I can't bear your punishment so I can't stand for this nonsense anymore. These people are thinking of your kid as Ranbir's baby and want to make me leave by snatching my baby's rights but I won't let it happen. Pallavi looks confused.
Ranbir stops Rhea. He asks her to leave saying they don't believe her. Rhea says she will fight for her right. Alia throws the envelope at Ranbir. Rhea opens the envelope. Alia says she can prove that Prachi is carrying Sid's baby. Rhea shows Sid and Prachi's photos. Pallavi says they saw it in the video and questions why she is showing them. Rhea says very soon they will know where these photos are taken and one guest is coming here to expose the truth. Someone comes there.
Ranbir says to Rhea that he trusts his wife and doesn't doubt her. Alia says his trust in Prachi gets broken once the truth comes out. Rhea says Prachi is fooling this family and I won't let it happen. The guard stops one lady. She tells him that Rhea called her. He allows her. Rhea asks why they started hating her suddenly. Pallavi says no one hates you and we are correcting some mistakes. Alia says you're doing a big mistake Pallavi. Don't forget that you're involving Rhea's baby along with her and that's why she planned to expose Prachi. Shahana says they won't believe them. Alia says truth will speak. Priya comes there. Prachi recalls she is a waitress at clintec hotel. Alia welcomes Priya. She asks her to introduce herself. Priya introduces herself.
Rhea says Sid came here during the party and talked to Prachi to start a fresh life. Prachi asks her to stop lying. Rhea asks Vikram about Sid's visit to the party. Vikram says he met then what? Rhea says you heard it. She asks Priya if she brought the proof. Priya agrees. Rhea says you're not believing me that's why I asked her to bring proof to prove Prachi is carrying an illegitimate child. Priya gives her entry list of hotel. Rhea shows everyone that Prachi and Sid shared a room. Priya says they are happy to become parents. Ranbir and Prachi shouts at her to stop.
Rhea stops Prachi. She requests Ranbir to believe her. Alia asks Priya to show them intimate photos. Priya shows them photos. Ranbir tears them. He asks Priya to leave. Shahana warns her to leave. Priya leaves. Ranbir tells Rhea that he doesn't trust her. Prachi says Sid and me knows the truth and he can reveal the truth. Rhea says she will call him but his phone is not working. Vikram says he will call. He calls Sid to come to the home. Sid agrees. Ranbir asks everyone to not use their phone until Sid comes here as I don't want anyone to force him up lie.
Episode ends.
Also See: