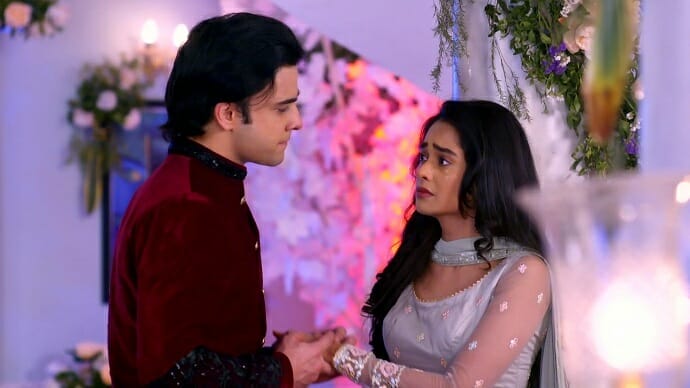 Kumkum Bhagya 11th November 2022 Written Update On TellyExpress.com
The episode starts with Sid revealing to everyone Prachi's baby is of Ranbir and not mine, I couldn't tell this truth until now, as Alia was blackmailing me that she will get Mihika killed if I didn't lie. Alia says Mihika will die even now. Alia's man stabs Mihika. Prachi comes out from her imagination. Ranbir asks her to return his drink. Prachi calls Pallavi and complains to her about Ranbir. Ranbir escapes saying he thought it was a soft drink and leaves. Sid thinks Alia and Rhea are behaving like professional criminals and Mihika is still not safe. He thinks about how to come out of the problem. He receives a call. He notices all sides. Rhea notices his actions and realizes it's an important call.
Sid goes aside and attends Preeti's call. Preeti says to Sid that Prachi gave his number and she called him as Prachi's phone is not reachable. She asks if Prachi is near. He says no. She asks him to pass on information that the courier boy is near Kohli's house. Sid agrees. Rhea tries hard to listen to his conversation but she can't hear anything. She thinks seems like it's an important matter according to his posture and thinks about what are they conspiring against them.
Ranbir stops Prachi and asks why she is showing right on him. Prachi doesn't answer him. Ranbir asks her to stop showing right on me as its confusing me. Prachi asks won't he feel good. She tells Ranbir that she will do what she likes, and goes near him, and asks him to relax. She says I thought to kiss you but I changed my mind. She leaves. Ranbir thinks what she wants from him. Vikram asks what is he doing alone. Ranbir says he is drinking water. Vikram takes Ranbir with him to enjoy the special performance of singers and Dancers.
Prachi collides with Shahana. Shahana notices Prachi with a smile and asks her the reason behind it. Prachi tells her how she teased Ranbir. Shahana smiles. At that time dhol people along with dancers and singers enter the venue. Pallavi asks everyone to join the sangeet ceremony of Prachi and Sid. Rhea takes Alia aside and tells Alia that Sid is up to something and I feel he combined with Prachi to expose us. She says they have to keep things under their control. Alia signs her men. He meets Alia. Alia asks her to do his work. Mihika tries to alert her brother. The waiter closes her mouth and warns her to stay silent. Everyone is busy with dancers and Singers, that time Waiter takes Mihika with him and hides seeing Preeti. Sid tries to tell something to Prachi but she could not listen because of noise. Sid dances with Prachi. Ranbir intervenes and dances with Prachi. Rhea intervenes and tries to dance with Ranbir. Ranbir feels insecure seeing Sid with Prachi and leaves from there. Shahana informs something in Prachi's ears. They leave from there. Rhea and Alia notice it.
Prachi asks Sid what Preeti told him. Sid tells Shahana and Prachi that reports are on the way. Rhea shows Prachi, Sid, and Shahana to Alia and tells her they are planning something. Alia asks her to not worry. Ranbir asks Aryan if he saw Prachi. Aryan teases him.
Ranbir goes to another side and sees Prachi and Sid talking and feels jealous. Ranbir takes a drink. Aryan worries Ranbir might do something after drinking and takes him away from there. Mini goes after Aryan and Ranbir. Shahana sees Mini going away and thinks she is trying to commit suicide.
Aryan takes Ranbir to a room and asks Ranbir why is he drinking? Ranbir says it is his wish. Aryan sees this and takes Ranbir to the bathroom forcefully. While taking Ranbir to the bathroom and the knife falls on the floor.
Mini comes into the room and see the knife on the floor. Mini takes the knife into her hands. Shahana sees the knife and thinks Mini is trying to commit suicide. Shahana struggles to take the knife from Mini. Aryan comes out of the bathroom and asks what are they doing? Shahana says Mini tried to commit suicide and she saved her. Mini hearing this says she wasn't doing anything like that. Shahana says Mini might be in depression because of the break up. Mini says she broke up because she wants to move on in life. Aryan and Mini hug each other. Aryan feels relieved as Mini didn't try to commit suicide.
In the room it is shown Mihika is tied up with a waiter. Goon calls Alia. Alia takes the call and says he shouldn't have called. The goon asks Alia to come to the hotel in a hour or she will regret it. Rhea asks Alia what happened. Alia says she doesn't know and says she feels like something is going to happen. Rhea hearing this feels worried.
Episode ends
Also See: