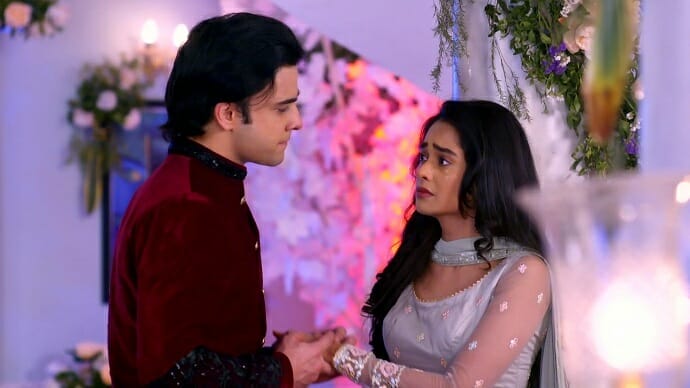 Kumkum Bhagya 12th August 2022 Written Update On TellyExpress.com
The episode starts with Ranbir saying to everyone Noone will take their phone. Shahana agrees and gives her phone first. Daljeet also agrees and tells everyone to give their phone. Ranbir locks the phone and gives the keys to Daljeet.
Alia tries to talk to Rhea but Shaina asks her to stay silent. Alia says she can talk to Rhea. Alia and Shaina argue. Rhea lashes out on Alia to stay quiet. Alia says you can't talk to me like this. Thea says she can as she is irritated. Alia calls her an idiot. Rhea and Alia talk about it.
Prachi asks why didn't you ask me anything when Rhea said all that about me. Ranbir says my heart gave me a testimony that you are innocent. I don't need anything else. I wish we were like before. Prachi notices Pallavi is behind Ranbir. Ranbir sees that Pallavi is crying he asks why. Vikram answers why Pallavi is crying and says when your son cries the mom always cries and shares an incident about Ranbir's childhood. Vikram says he is proud of his wife as from when she became this house daughter in law she tried to keep this family as a whole. Daljeet says and we will stay together and gives Prashad to everyone. Rhea comes and Daljeet also calls her but she just walks away.
Rhea comes and argues with Alia and asks what is she doing. Alia says we are getting ready to sleep. Rhea says I am having my life destroyed and you want to sleep. Rhea gets worried and says now there is only way for me and I will kill myself. Alia says if someone has to die it will be Prachi. Rhea goes away. Alia and Shaina talk about Rhea.
Pallavi says everyone in this family supports her to Prachi. Vikram also seconds her. Sahana also says it feels like her wish came true now your family supports you. Rhea comes and says I know I shouldn't say what I said but I feel like everyone is targeting me. Shahana says you have said what you want to say. Now Sid will come and reval the truth. Vikram gets a call and to take the call he asks Daljeet the keys. Vikram takes the keys and takes the call. Sid calls Vikram and says to him that his flight is canceled. He will come on the next flight and he will come tomorrow. Vikram asks him to switch off his phone. Sid listens and switches off his phone. Vikram says he told Sid to switch off his phone so that Noone can talk to him and we can use our phones.
Rhea takes her phone and goes away. Prachi calls Rhea and says I thought no one can go this low. But you prove me wrong everytime. You questioned my character right. Rhea says you left the house because you made a mistake. Prachi says she left the house beacuse I have lost the trust on this family and Ranbir didn't trust me at that time. But now everyone trusts me and the whole family is with me. I will now fight not only for myself but for my whole family. Rhea says you need proof to prove that child is yours. Prachi says she will take a DNA test. Rhea says fine. Ranbir says there is no need. Prachi says to shut up people like these I need to do it.
Rhea tries to talk to Ranbir but Ranbir acts like he is not interested in talking. Ranbir calls Prachi and says tomorrow we will go at 10 o clock for the test
Episode ends.
Also See: