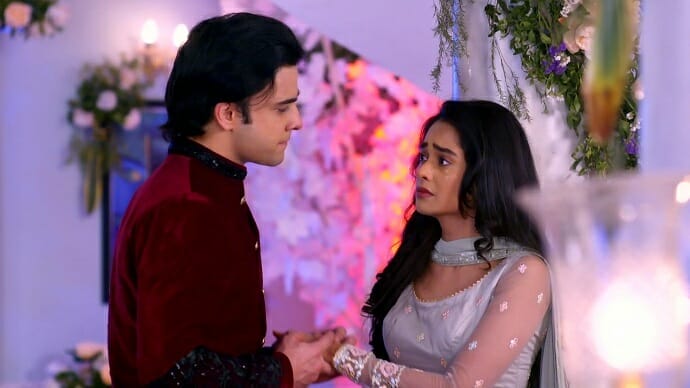 Kumkum Bhagya 14th July 2022 Written Update On TellyExpress.com
The episode starts with Vikram drinking and Pallavi comes behind him. Vikram talks to Pallavi. Pallavi says she is worried about what is happening between them. Pallavi asks Vikram to forgive him. Vikram says he will forgive him if it was a mistake but how can I forgive negligence. Pallavi says think of this forgiveness as my birthday gift. Vikram walks away.
Ranbir stops Prachi and talks to her. Ranbir says not to forget her. Prachi says not to talk to her like this as he is going to become Rhea's unborn child's father. Rhea says this is the right time to Alia and she calls for everyone she goes and makes a call on the phone.
Ranbir and Prachi talk. Prachi asks what is he doing for them being together. Ranbir says I am hurting someone that is very close to me to he together with you. Prachi says this is what you shouldn't do. You are hurting people who you should respect. I don't want to be a person who divides your family.
Rhea asks Alia to send Prachi behind the wall. Alia says to a waiter that the painting fell off. The waiter goes and tells Prachi that we have to put the painting there. Prachi says she will do it. When Prachi puts the painting on the wall. Alia makes the screws loose near the partition and it falls down on Rhea. Ranbir saves Rhea. Alia asks Prachi not to touch Rhea. Alia blames Prachi.
Prachi asks why will she do it. Alia says you're jealous of Rhea as she is getting everyones' love because of this pregnancy. Ranbir says Prachi can never think in that way. Rhea asks him to stop it and I feel she has a problem with my child. Ngo women come there and ask Alia why they look shocked. Alia says Prachi tried to kill Rhea's baby by throwing this decorated wall. Ranbir says she is wrong. Alia asks Mauva to call the security team to see the CCTV footage. Shahana says she can blame her too. Alia stops her.
Security in charge had over footage pen drive to Ranbir. He plays it. Everyone gets shocked seeing Prachi near the wall. Rhea smirks then she says it's visible that Prachi is the one who did it. Alia says I saw her doing it and this video is proving her crime and she did it to harm Rhea and her baby. Prachi says she tightening the screws of the photo frame. Rhea says you're exposed with proofs so stop your acting and I agree with Alia bua that you're jealous of me as I become pregnant not you so you want me to lose this baby so you can get Ranbir and his family. Rhea asks how could she do it to her sister. Ngo women say they are feeling regret to support Prachi and call her Dayan. Prachi asks them to stop. She says I told Rhea that I will leave. Rhea says you didn't leave. Prachi says she didn't do anything.
Pallavi asks what's she doing in the video. Prachi says I'm placing the paint. Pallavi asks Prachi if she knows Rhea is on the other side. Prachi says I know but. Pallavi says it's good that you're exposed in front of everyone and I thought for some time that you're good but you proved that you're a poisonous snake. Prachi asks them to listen to her version. Dida asks them to give her a chance. Vikram says no one can support her seeing the video. Prachi says she is happy for Rhea and her baby then why will I do. Pallavi asks Prachi to leave the house and announces people who support Prachi can leave too.
Episode ends.
Also See: