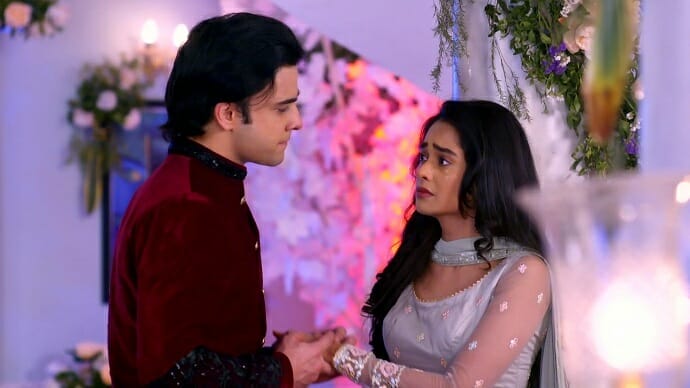 Kumkum Bhagya 15th August 2022 Written Update On TellyExpress.com
Episode begins with Prachi, Ranbir, Aryan and Shahna getting into the car. Ranbir says you don't have to do this Prachi. Prachi says I need to as I need to prove. Ranbir says to whom? Prachi says to Rhea. Ranbir says why are you even caring what she says, I trust you. Prachi says I am really grateful to you for trusting me but as Rhea as put forward this allegation on me for carrying Sid's child so I want the DNA test to prove her allegations wrong and I don't want anyone to keep anything in their mind. They all agree and leave for hospital. Shahana asks Aryan where he went yesterday? Aryan says to help Mili as he fought with her boyfriend. They all get shocked as they thought Mili is his girlfriend.
Aryan then explains how Mili and him are not exactly boyfriend and girlfriend but they are in casual. Shahana says I knew it a guy like you can never get a girlfriend. Aryan says what do you mean a guy like me? Tell him bro how good I am. They all joke. Here, Rhea goes to kitchen and wonders I should have waited before going so far with the baby being Sid's announcement and now they have gone for DNA test this will prove me wrong and everyone will start trusting Prachi. She worries. She asks for water so the servant gives her.
Pallavi comes and asks the servant to go and bring fresh fruits from market. Pallavi then asks Rhea if the Sid thing is real? Rhea is about to say something when Alia sees this and comes. Alia says it's offcourse true, you should believe us. Pallavi says how should I believe like that, trust should be earned. Pallavi says to Rhea I asked you to do things in a particular manner but you have always disobeyed me and that makes it difficult to trust you. Dida is hearing all this but then she sneezes so Pallavi is surprised. Pallavi asks Dida if she needs anything? Dida says tea.
Pallavi says I will make it. Dida asks about the servant so Pallavi tells her that she went to get something from market. Dida leaves but actually she hides to listen to them. Pallavi asks Alia and Rhea to be careful as things are not in their favour. Alia says everything is more difficult for us as you left our side. Pallavi panics and says talk in low voice, it's of no use to talk to both of you. Pallavi leaves.
In the hospital, Aryan and Shahana joke about each other with a nurse saying how the other one is a patient. They all laugh on their fights. Suddenly Prachi falls and is unable to walk so Ranbir picks her up. Ranbir says whenever you will fall I will pick you up like this. Prachi says because of this only I am irresponsible. They go. Shahana feels emotional seeing them like this. Aryan asks her if she is fine? Shahana says after long time I have seen Ranbir and Prachi like this, they have had a very hard time before this.
Aryan says I was not here but as much I have heard, I really felt bad for them but it's good to see them like this. Shahana starts walking and falls. Aryan sees this and picks her up. Shahana says leave me, put me down. Aryan says are you sure? Shahana says yes. Aryan drops her. Shahana falls and gets angry. Aryan says did you get hurt sorry. Aryan runs. Shahana gets upset.
Here, Vikram is in the room on office call. Dida sees him and thinks how in front of Vikram Pallavi is against Rhea but how she heard about her supporting Alia. Vikram's call ends when he sees Dida so he calls her inside and asks her why she seems upset? Dida says nothing. Vikram says you are always energetic, what's the tension? Dida says I am fine. Vikram says tell me or else I will take the tension on me. Dida says about the doubt on Pallavi's matter and if she is really with Prachi.
Vikram says you are overthinking because you are worried, just trust Pallavi, I know she gets manipulated easily but. Dida says that means Rhea is manipulating her? Vikram says no, Pallavi knows Rhea is not good for Prachi and baby so she will do everything to get her out. Vikram calms Dida.
Prachi's test is done. They start to leave when Prachi and Ranbir hold each other's hand. Shahana stops Aryan from disturbing them and asks him to give them their time. They go and wait in the car. Ranbir helps Prachi walk and they smile at each other. Here, Alia comes to a shady place and thinks for Rhea I am coming to such places, soon I will take my respect from her. Alia searches for Jita and gives him a envelope with Sid's picture and asks him to kill Sid, he will arrive in international airport. Jita says he will be alone? Alia says yes and make it look like an accident. Jita says it will be done.
Shahana asks Aryan what did Mili see in you? Aryan says that you don't see in me, she sees me being hot and handsome. Shahana says every guy feels he is hot and handsome. Aryan holds Shahana close and says you should also get to know me nicely. They both look at each other. Ranbir and Prachi comes out and wonder where are Shahana and Aryan? Why they didn't get the car here? Ranbir calls Aryan when Shahana pushes Aryan away.
Ranbir thinks why they didn't pick up the call? Prachi says they both are a kid they must be fighting. Ranbir says sometimes there is parking issues, let's go and check. Shahana and Aryan start fighting about Aryan coming close and try to flirt with her. Aryan calls her delusional. They both fight and everyone looks. Ranbir and Prachi see them fight so they stop them and calm them. Ranbir lets Aryan drive. They all start going home. At home, Vikram makes Dida sit down and says please calm down. Dida says don't treat me like a patient.
Vikram says I am the patient and I want to rest my head on you. Vikram says how everything is so confusing at home, I am unable to understand if you will show evidence against Pallavi like Rhea showed against Prachi, i understand your doubt as Pallavi has suddenly supported Prachi maybe for the kid and then Rhea putting these allegations on Prachi.
Dida says you have no right on doubting Prachi, you go to office and don't stress. Dida stands up when Pallavi comes with tea. Dida confronts Pallavi why is she asking Rhea if the Sid thing is true? When she trusted Prachi and did the god bharai function then now what's the confusion? Pallavi stands shocked.
Episode ends.
Also See: