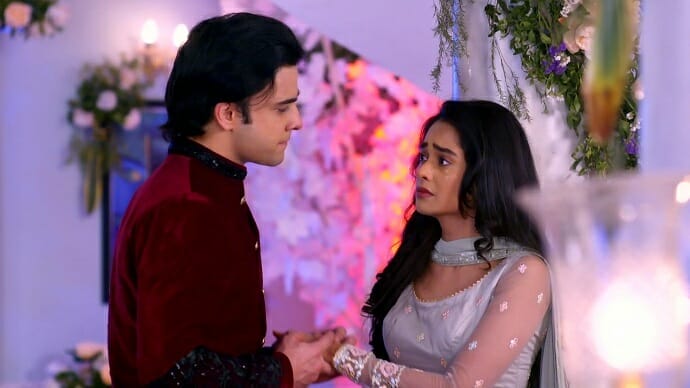 Kumkum Bhagya 15th November 2022 Written Update On TellyExpress.com
The episode starts with Sid saying to Ranbir that he can see Rhea's lie in the report. Ranbir says it's not Rhea's report. He throws it at Sid's fave and leaves. Sid feels confused seeing the report. He calls Preethi and asks why they send Kinjal's report to them. Preeti says it happened by mistake and we are correcting it. Sid thinks if he needs to inform Prachi or wait for the report. Alia calls Madhurima and asks where she can get the report. She cuts the call and enters to Storage room side diverting Nurse's attention. Prachi enters the hospital. She asks the receptionist if Preethi told her that she is coming. The receptionist sends her upstairs.
Aryan tells Ranbir that he won't get Prachi by upsetting Sid. He advises him to confess in front of the family that you want Prachi then the problem will be solved. Ranbir says everyone knows it but still they want Prachi to get married to Sid. Aryan tries to tell him something but he leaves without listening to him.
Sid searches for Prachi. He thinks about where everyone went. Aryan comes there and asks him how he is sure that Rhea is not pregnant with Ranbir's baby. Sid says it's someone's report so it's waste to discuss. Aryan says he is confused with all of their behaviour. Pallavi comes there and says she is angry as Prachi is nowhere and not attending the calls. Dida asks Vikram to control Pallavi. Vikram seeks Dida's help. Dida agrees to help. Vikram asks Pallavi to dance with him. Pallavi says she will dance with him later. Vikram calls Ranbir and complains to him that Pallavi is not dancing with him. Ranbir asks her to dance for him. Pallavi agrees. She challenges Vikram to dance with her. Pallavi rocks the dance floor. Vikram joins her. Everyone claps for their performance.
Alia enters the storage room. She searches the file using a torchlight. Prachi comes there. Alia hides thinking if any hospital staff entered the room. Prachi searches for Rhea's report. Alia gets the report and leaves the room. Prachi notices Alia is leaving with Rhea's report.
Rhea decides to teach a lesson to Alia's goons. She enters the hotel room. Alia's goon held her at gunpoint. Rhea asks how dare they to take her at gunpoint. Shahana sees it through the window. Alia's goon demands more money and tells her that he will sell Mihika if she doesn't pay him. Rhea questions how can he double cross them. The goon threatens to kill Mihika if she doesn't call for money. Rhea calls Alia and says she is not attending calls. Shahana calls Prachi but Prachi doesn't attend her call.
Aryan thinks about Shahana and doesn't attend the call. Sid asks him to pick up the call. Aryan shouts at him. Mili makes Aryan understand that he is a mistake not Sid. Aryan apologizes to him. He attends the call. Shahana calls him to the hotel orchid immediately. Aryan rushes out. Mili follows him. Ranbir notices them and thinks what happened. Alia returns home. Prachi scares Alia and takes a report from her. Alia asks Pallavi to know where Prachi went leaving Sangeet. Pallavi calls Prachi and asks her to answer them. Prachi says it's time to answer everyone. Alia acts like dizzy and she throws the report under the table by taking it from Prachi. Vikram asks Alia if she is fine. Alia says she is fine. Pallavi confronts Prachi. Vikram and Dida ask Pallavi to stop interrogating Prachi. Pallavi asks Prachi to get for the sangeet. Everyone leaves.
Episode ends.
Also See: