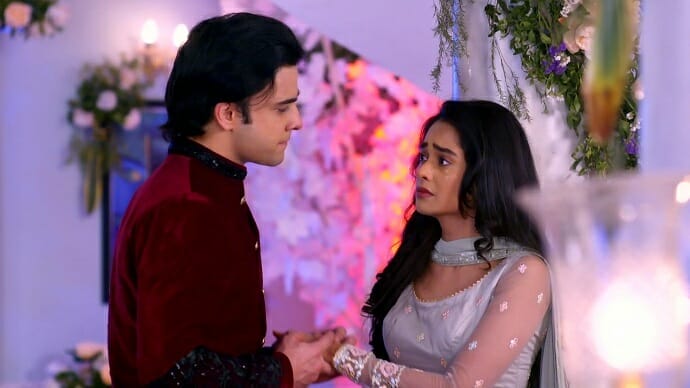 Kumkum Bhagya 16th August 2022 Written Update On TellyExpress.com
The episode starts with Daljeet asking Pallavi why did she ask Rhea for the truth. Pallavi says she is a human and she says she tries to stand on what she said to Prachi and if I asked Rhea to clear my doubts what is wrong in it. Pallavi asks Daljeet that Rhea has shown this many proofs and all of them can't be fake right. Daljeet asks then why did you say you support Prachi. Pallavi says you know Prachi is pregnant and that her Pregnancy is complicated that's why I told her I support her. Pallavi says to look at her intentions not at at her lies. Vikram agrees with Pallavi from her stand point. Daljeet thinks something is wrong.
Shahana asks Aryan to drive properly and asks Ranbir to drive as Aryan is not driving properly. Ranbir says he can drive as he has license and Prachi also agrees to Aryan driving. Prachi also says why she doesn't let Ranbir drive the car and they talk about it. Rain starts falling. Prachi asks to stop the car. Prachi says she saw a Mandir and she is going to go. Ranbir doesn't allow her to go into rain and holds an umbrella for Prachi and then let's her get down. Aryan talks to Shahana why has to Prachi go now she can pray from the car also. Shahana says he can't understand.
Prachi prays to God. Ranbir asks what did she pray. Prachi tells she is not going to say. The umbrella flies away beacuse of the wind. Prachi and Ranbir start playing in the rain. Aryan says they are both kids to Shahana. Ranbir hugs Prachi.
Rhea thinks to herself she hasn't thought about DNA and thinks to herself that her plan is going to backfire on herself. She thinks her lie is going to be exposed infrint of everyone. Rhea thinks to herself they will know that she gave money to the hotel staff and made them do it. Rhea plays the guessing game in which she plucks the rose petals to find out whether she will get caught or not. But at the end the result shows the guessing game shows that she will get caught and she gets frustrated about it.
Daljeet opens the door and sees that everyone is wet. Daljeet asks about them and tells them to change clothes as they are wet. Aryan and Ranbir tease Daljeet. Aryan and Shahana start bickering with each other. They go away. Prachi says thanks to Daljeet as she stopped her from leaving the house at that time. Daljeet says this is her bhagya and blesses her. Daljeet prays to God for Prachi.
Prachi sneezes and Ranbir gets a towel for her. Ranbir helps Prachi dry her hair. Shaina sees them and decides she has to tell Alia about this. Prachi and Ranbir talk with each other. Prachi goes to change her dress.
Shaina goes to tell Alia what she saw to her room. Shaina sees Alia is talking on the phone with someone. Alia asks on the phone if he is nuts and tells him to first do the work and then he will get the money. Alia asks them to get her proof that Sid Kohli is dead then she will send them money. Alia sees that Shaina has heard what she is talking on the phone and thinks she has heard everything. Alia asks Shaina not to tell anyone that she hired Goons to kill Sid kohli not even to Rhea.
Episode ends
Episode begins with Prachi, Ranbir, Aryan and Shahna getting into the car. Ranbir says you don't have to do this Prachi. Prachi says I need to as I need to prove. Ranbir says to whom? Prachi says to Rhea. Ranbir says why are you even caring what she says, I trust you. Prachi says I am really grateful to you for trusting me but as Rhea as put forward this allegation on me for carrying Sid's child so I want the DNA test to prove her allegations wrong and I don't want anyone to keep anything in their mind. They all agree and leave for hospital. Shahana asks Aryan where he went yesterday? Aryan says to help Mili as he fought with her boyfriend. They all get shocked as they thought Mili is his girlfriend.
Aryan then explains how Mili and him are not exactly boyfriend and girlfriend but they are in casual. Shahana says I knew it a guy like you can never get a girlfriend. Aryan says what do you mean a guy like me? Tell him bro how good I am. They all joke. Here, Rhea goes to kitchen and wonders I should have waited before going so far with the baby being Sid's announcement and now they have gone for DNA test this will prove me wrong and everyone will start trusting Prachi. She worries. She asks for water so the servant gives her.
Pallavi comes and asks the servant to go and bring fresh fruits from market. Pallavi then asks Rhea if the Sid thing is real? Rhea is about to say something when Alia sees this and comes. Alia says it's offcourse true, you should believe us. Pallavi says how should I believe like that, trust should be earned. Pallavi says to Rhea I asked you to do things in a particular manner but
Also See: