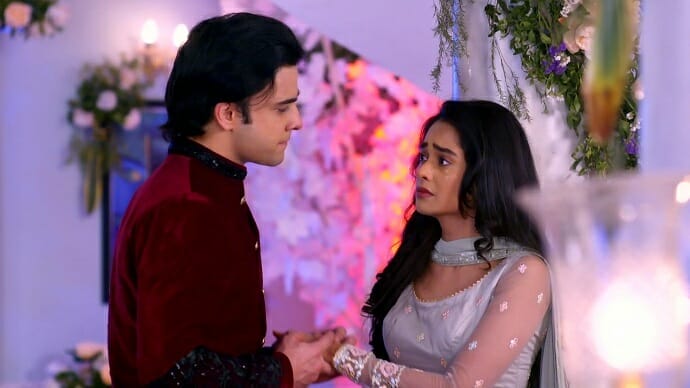 Kumkum Bhagya 16th November 2022 Written Update On TellyExpress.com
The episode starts with Prachi stopping Alia. Alia asks her why she stopped her. Prachi asks what's written in the report. Alia says she didn't check it. Prachi says I know what you're hiding. Alia asks her to never stop a person from leaving to talk nonsense. Alia is about to leave. Prachi says I know Rhea's truth. Alia stops in her way. Prachi comes in front of her and says you can hide the report not the truth as I know Rhea is not pregnant and I need that report to prove it to family members. Alia says stop your allegations, she says you're jealous of Rhea and not to tell everyone that Rhea is not pregnant. Prachi says she knows Rhea is not pregnant. Alia says to Prachi she needs to check her mind. Prachi says there is no need for that and says she can burn Rhea's report and says the original copy is in Dr. Preeti's computer and says she will send the report soon. Prachi leaves from there.
Rhea says her phone is not working and says her phone is not getting a signal. The goons decide to tie up Rhea but Rhea escapes from the room. The Goon goes after Rhea and captures her. Shahana sees the goon capturing Rhea and thinks what is going on. Shahana goes after the goon.
The Goons bring Rhea, Mihika, and the waiter to a different place. Shahana tries to call Ranbir but he doesn't pick it up. Shahana calls Prachi. Prachi takes the call. Shahana says the Goons also kidnapped Rhea and asks her to come here. Prachi asks Shahana where is she? Shahana says this is some kind of warehouse near a station with a zee tv poster near it. The connection cuts off. Shahana couldn't tell anything more. Prachi asks Ranbir to come with her.
The Goon talks with a human trafficker saying he needs 15 lakhs and asks to sell Rhea and Mihika for it. Rhea signals she wants to say something. The human trafficker asks the goon to allow Rhea to speak. The Goon agrees. Rhea says she can give them money and says she will give them 10 lakhs and asks them to leave. The trafficker asks how can she do that. Rhea says she has a special account and if there is an atm near here she can give them money. The Goon says she can give 15 lakhs and take Mihika with her. Rhea says she will not give a cent for her. Rhea asks them where is the ATM. Shahana thinks Rhea is bad as she can save Mihika but she won't.
Aryan and Mili come to the hotel looking for Shahana. Aryan asks the receptionist if she saw Shahana and explains how he feels about her. Mili asks Aryan to stop and shows the photo of Shahana to the receptionist. The receptionist says she hasn't seen her. Aryan later thinks he can track Shahana as he set her password. Mili understands that Aryan and Shahana might love each other as Shahana didn't change her password. Aryan goes to find Shahana and Mili says she will come in a minute.
Prachi says to Ranbir what Shahana said on the phone. They talk and conclude where is the warehouse. Ranbir drives there with Prachi in the car.
The Goon praises Rhea as she gave the money. Rhea goes to Mihika. Rhea tells Mihika that she didn't come to answer her questions but came to tell her that she helped her a lot. Rhea thanks her. She says you're the sister of Sid so you need to bear the punishment. She waves her bye. Rhea slaps Alia's men for making her worry. She gets hurt by his phone and leaves taking it. Human trafficker goes to hand over money to the main member. Shahana waits for Prachi. Ranbir stops the car far from the wear house. Prachi notices the bag in the car and asks if he is leaving the house. Ranbir asks her to concentrate on work. Prachi asks where is warehouse. Ranbir shows her. goons come out hearing some noise. Ranbir lifts Prachi and hides from them.
Episode ends.
Also See: