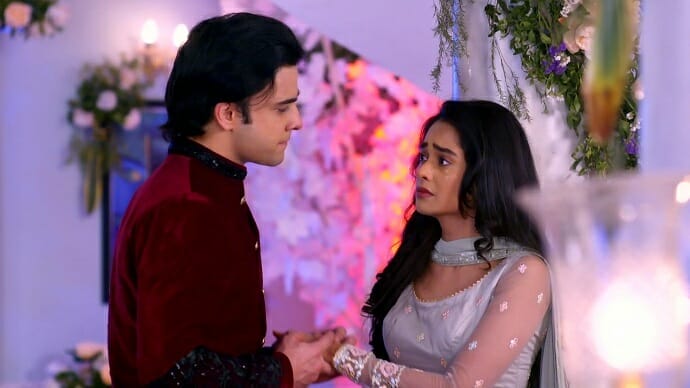 Kumkum Bhagya 17th November 2022 Written Update On TellyExpress.com
The episode starts with Prachi and Ranbir hiding from goons. Goon shows money he got from Rhea to their main goon. The main person slaps him for leaving Rhea. He says they may get more money if they blackmail Rhea's family as she herself arranged 10 lakhs. Rhea tries to leave the warehouse from the backside. Rhea calls Alia but she doesn't attend the call. Rhea messages Alia. Alia calls Rhea and asks why she called her from an unknown number. Rhea reveals to Alia how her man outsmarted them. She tells Alia that they need to lie to Sid that Mihika is with them until he gets married to Prachi. She says she will ruin Prachi's life and disconnects the call. Goon again captures Rhea and takes her with him.
Ranbir and Prachi argue with each other. Prachi notices Shahana. Ranbir notices Aryan. Goons are about to catch Shahana but Aryan diverts their attention and saves Shahana. He takes Shahana with him and runs out. Prachi and Ranbir escape along with them. Guest asks Alia where is Prachi. Alia says she will tell her once she finds her. Alia thinks Prachi is missing and only Pallavi can bring back Prachi. Alia tells Pallavi that Guests are waiting for Prachi to gift her but Prachi is not here. Pallavi says she didn't know where is Prachi. Alia says no one knows about Prachi and it's wrong to leave without informing anyone. Dida hears it. She asks Alia to not spoil the mood of function by provoking Pallavi and she tells Pallavi that Prachi is understanding and she maybe near the kitchen. Pallavi says she won't leave if Prachi is not in the house. Dida goes to search for Prachi. Alia thinks she is scared of Prachi's smartness.
Goon takes back Rhea to their warehouse where they kept Mihika. Rhea questions his ethics. He asks her fo not to question him as she doesn't have any. Alia's goon tries to slap Rhea to take his revenge but Rhea twists his hand and warns him to never touch her. Rhea removes the cloth from Mihika and asks how she is feeling. She blames Mihika for her misfortune. Mihika mocks Rhea and says now I know why you're not with Ranbir and your fate is not good that's why Ranbir is with Prachi. Rhea slaps Mihika and fights with her. Goons separate them and take them in different directions.
Dida searches for Prachi. She asks Sid about Prachi. Sid says Prachi is nowhere. She asks if he saw Rhea. Sid says no. Dida says I asked Prachi to follow Rhea like a shadow until they get Rhea's report and it's my mistake and she may go behind Rhea. Sid thinks Rhea might be changing Mihika place. He leaves in hurry. Aryan sees Ranbir's car. Ranbir and Prachi meet them. Prachi and Shahana ask them how to save Rhea. Aryan and Ranbir think for a plan. Aryan suggests Ranbir to become an inspector. Ranbir says he ordered some dresses for the theme party and he may have a police costume. Ranbir opens the suitcase and takes out the police costume. Ranbir and Shahana decide to become police. Aryan decides to become the supervillain gabbar. Prachi doesn't have any dress to change. Ranbir, Shahana, and Aryan change into their costumes. Ranbir tells Prachi that they will go and save Rhea and asks her to wait near the car as she doesn't have a costume. Prachi says she will accompany them but get doesn't listen and leave. Prachi thinks they will definitely need her help.
Episode ends.
Also See: