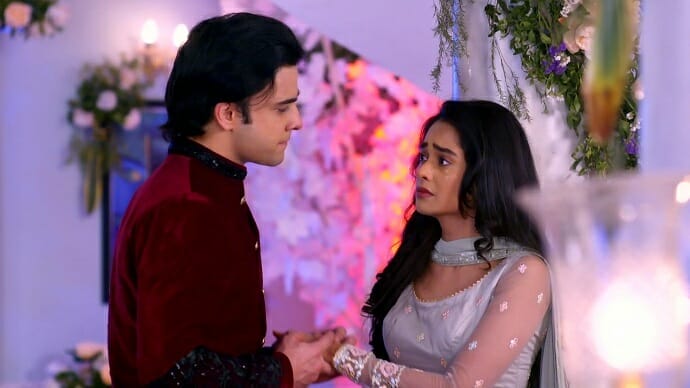 Kumkum Bhagya 19th January 2023 Written Update On TellyExpress.com
The episode starts with Alia asking her man where is Madan? I have to call someone. He says Madan will come and asks her to use his phone. Alia breaks the phone and slaps him. Madan comes there with a new phone. Alia scolds them for keeping their phone with them without listening to her. She hears someone entering. She asks Madan to get ready the car to escape. Madan goes out. Alia hides and notices Rhea entered the place with the police. Alia thinks she never thought Rhea will go against her. Alia escapes with her men. Rhea feels emotional seeing the swing. On the way, Alia calls Rhea and questions her why she is supporting enemies by going against her.
Rhea says there is no mistake of the baby so please leave her. Alia says I will do bad with you too and I never thought I will tell it to you but Prachi and you're the same and you have the same blood. Rhea says she feels proud if she is like Prachi as Prachi is good. Alia asks what happened to her. Rhea requests her to leave the baby. Alia says she won't let them feel the happiness and it's the last time I'm calling you. She disconnects the call. Alia decides to make Rhea face the wrath of her anger for going against her.
The nurse gives medicines to Prachi. She tells Ranbir that Prachi will sleep because of the medicine's effect. Ranbir sits beside Prachi. On another side, Rhea tells Inspector that baby is with Alia and she called me and said she is going to take revenge on us. Inspector says Alia may demand something as she senses she is in danger. He asks if she knows what Alia may demand. She says she doesn't know. They leave from there.
Prachi wakes up. Ranbir says your medicines make you drowsy so don't worry. Prachi says she is worried for the baby. She asks him to leave the room closing the door. He leaves assuming she will take a rest. Rhea and the Police return home and tell family members Alia escaped from them. Alia calls Prachi. Prachi recognises Alia and begs her to leave her baby and warns her that she will kill her if something happens to her baby. Alia says she is liking it and you made Rhea against me. Prachi apologises to Alia and requests her to make her meet her daughter. Alia gives her address and asks her to reach in 10 minutes. Prachi says she will come. Alia asks her to come alone. Prachi agrees.
Ranbir vents her frustration in front of family members and says glad Prachi is asleep because of medicine otherwise it is tough to answer her. Prachi comes there and thinks she didn't take the tablets he gave her and she thinks she didn't trust him anymore. Ranbir says to his family members he can't trust them. Pallavi says Rhea and we are searching for baby so stop blaming us. Ranbir says Alia hates Rhea and Prachi. He says if something happens to my baby because of you guys then I won't forgive you. Prachi hears it.
One of the inspectors goes out to attend the call. He sees Prachi going outside. He goes inside and says Prachi is leaving somewhere in tension. Another inspector says Alia may call her. That time Ranbir receives a call from a private number. He attends the call.
Alia asks him to come to the address she sends him with his family to meet his daughter. Police, Ranbir, and others hear it. Alia says don't bring the cops, if I see any cop then the cute little baby will be down the drain. Ranbir agrees. He asks the police to not follow them and leaves with his family. Police decide to do their duty.
Prachi reaches the location Alia sent her. She calls Alia. Alia comes out with the baby. Prachi asks her to give her baby. Alia says I thought to meet you alone but later I thought it's good if family members are here so I called them here. Alia gives the baby to Madan. Prachi asks her to not give him and tries to create a scene. Alia threatens to kill the baby if she doesn't cooperate with them. Prachi is taken aback and tells Alia that she is ready to do anything to save her baby. Alia asks Prachi to sign legal documents. Prachi signs legal documents. Alia says one set is you're transferring properties Abhi gave you to me and another set is divorce. Prachi says ok and give me my baby. Alia is about to give the baby. Ranbir comes there and Alia stops herself from giving the baby to Prachi. Ranbir requests Alia to give the baby to them. Alia says to baby your parents love you and your dad doesn't know that your mom signed divorce. Madan sees the police team and informs Alia that they bring police with them. Alia gets shocked.
Episode ends.
Also See: