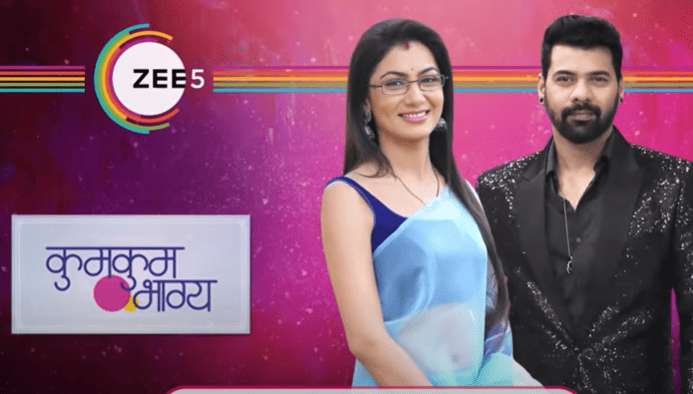 Kumkum Bhagya 1st June 2022 Written Update on TellyExpress.com
The episode starts with Rhea colliding with Shahana. She argues with her. Shahana says it's your first mistake and I will leave you for 3 mistakes but I won't leave you if you do 4th mistake then I will expose you. Rhea thinks it's a waste to talk with her. She plans to arrange surprises for Ranbir in the night. Rhea sees Ranbir in the kitchen and asks what's he preparing. He tells her he is preparing halwa. Rhea asks why he hugs her in the hospital. Ranbir says it's related to Prachi. Rhea asks what's that? Ranbir says I can't reveal it to you and Prachi will herself reveal it and you love the news and our relationship gets stronger with that news.
Rhea thinks it's about them and asks him to tell her. Ranbir says he can't. She says she will ask Prachi. Ranbir stops her and tells Prachi likes the apartment we used to stay in, finally, she is buying it that's why I'm preparing Halwa so don't tell her that I know it. Rhea thinks Prachi is planning to leave the house. Ranbir asks Rhea to not tell her about it. Rhea tells him she won't tell it as it's their top secret. She thinks it will shock Prachi.
Ranbir takes Halwa to Prachi's room. He asks her to taste it to share his happiness. She asks what's special. Ranbir lies to her saying it's about his startup and asks her to taste it saying she is lucky for him. He feeds her. She feeds him too. Ranbir hugs her. Prachi congratulates him. Ranbir thinks he has to control himself otherwise he may reveal the matter by himself. He makes Prachi sleep in the bed. Rhea sees the. Prachi asks him to leave the room telling she can't sleep when someone is in the room. He thinks she has to change her habit soon. Rhea thinks she has to trace what's the matter.
The next day, Alia helps Pallavi to set the dining table. Pallavi asks why she looks happy. Alia tells suddenly Ranbir realized that if anything had happened to him in an accident then Rhea would have got lonely and this feeling made him hug Rhea and she felt his love. Pallavi says it's good news and I'm scared thinking Ranbir wants to celebrate his anniversary with Prachi but after hearing your words I'm sure he won't organise any party for Prachi. Alia says he will organize everything for Rhea. Pallavi says she is so happy.
Prachi says to Shahana that she doesn't want to create a scene when Ranbir wished her on their anniversary. Ranbir comes to Prachi but she leaves to the dining table seeing Rhea. Ranbir gives Jalebi to everyone to share his happiness. He feeds it to Prachi and eats it. She is about to wish him. Ranbir tells her he is organising a party at Kohli's mansion. Pallavi says she supports him. Rhea asks what's the need for it. Alia says he may planning to propose to you. Prachi asks why can't he share it. Ranbir says it's related to their business and tells everyone that it's going to be a grand party. He leaves telling he needs to do the arrangements.
Ranbir meets Stanley. Stanley tells him he is a fan of him and knows everything about him. Ranbir hires him telling he needs an energetic guy like him. Watchman tells Ramnik came to meet him. He asks him to send him. Ramnik shows him rings. Ranbir chooses a ring for Prachi. Ramnik leaves. Ranbir tells Stanley to address and says this address is of a divorce lawyer, I will take divorce from Rhea and then will live life with my real wife. Shahana asks Prachi to not get angry with Ranbir as he may forget it in business tension. Prachi scolds her for taking Ranbir's side and this day he had not only married me but also promised me so much, but after 3 years, he just remembers Rhea and his business. Rhea hears and smiles.
Episode ends.
Also check: