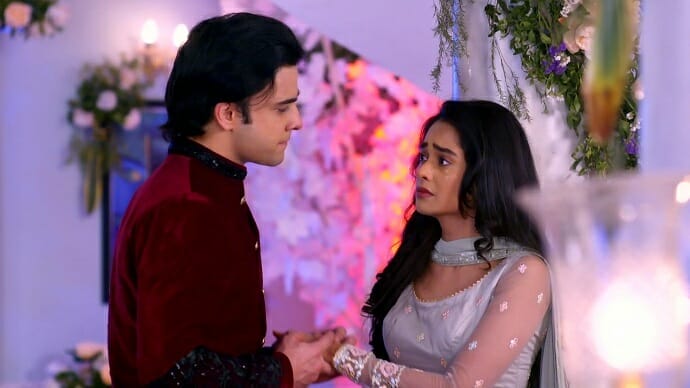 Kumkum Bhagya 1st November 2022 Written Update On TellyExpress.com
The episode starts with Prachi saying to Vikram your love and trust are with me that's enough and I don't need anything else. Vikram asks her to be happy and says we all are with you. Rhea, Pallavi, and Alia leave from there. Vikram asks Prachi to not misunderstand Pallavi's words. Prachi agrees. They too leave. Shahana stops Aryan and asks why he got angry at his mom. Aryan asks her to leave it and leaves. Prachi goes to Dida and notices she didn't sleep. Dida says she didn't sleep because of the heavy clothes. She asks if Tailor came. Prachi reveals whatever happened. Dida says Pallavi can't do it. Prachi says I know it as she loves me. Dida says wish everyone is like you to see the goodness in people. She says they are lucky to get her. Ranbir searches for Sukesh. Sukesh comes out from his hiding spot and runs from there. Ranbir and the police chase him but Sukesh escapes in Cab. Yamini tells Ranbir that they will find him. Ranbir asks if she feels someone from his home gave him an order? Yamini says Sukesh framed Alia and Pallavi but his statement doesn't prove anything so we will do something. Ranbir thanks her. Yamini says it's her duty. Ranbir leaves.
Constable asks Yamini why didn't she tell Ranbir that she doubts Alia. Yamini says I doubted her but now I feel many secrets are there so we need to expose them. Shahana notices Aryan is tense. She asks him to tell her what happened. Aryan tells her indirectly that Mili broke up with him but she doesn't understand. Ranbir returns home. Shahana asks Ranbir if they catch the tailor. Ranbir denies it and tells them how he got escaped in the cab. Rhea hears it and thanks God for saving them. Prachi notices Ranbir is hurt. She does first aid to him and scolds him for not taking care of himself. Ranbir admires her. Rhea gets angry seeing them. Ranbir says he gets hurt regularly if she cares for him in this way. Rhea leaves in anger. Prachi tells it's done. Ranbir asks why she cares for him if she doesn't like him. He says fine and leaves. Shahana indirectly asks Prachi to follow Ranbir to what he meant. Prachi leaves.
Rhea returns to her room. Alia asks her what happened. She says she needs a normal day. Rhea says Prachi is getting closer to Ranbir and I don't know how to separate them. Alia says she has an idea. Rhea says their plans are not working. Alia asks her to believe her. She calls Pradeep and informs him of something and disconnects the call. Rhea asks if she feels it works. Alia says Pallavi doesn't like the bad reputation. Rhea asks what about Ranbir. Alia says he can't do anything. Rhea advises her to inform news channels too. Alia says that's my girl and hugs her. Alia tells Rhea, let's do it, let's ruin Prachi's respect, if she gets a bad reputation then the Kohli family will be ruined itself. Alia asks Rhea to collect Prachi and Sid's photos from the ceremonies. Rhea agrees.
Prachi goes to Ranbir's room. She notices he is sleeping in a weird position. She tries to set him but she falls onto the bed. Ranbir places his hand on her. Prachi recalls her moments with Ranbir. She thinks she won't let this marriage happen as she carrying Ranbir's child. She decides to tell truth to Ranbir once he returns from office. Her tear falls on his hand. He turns. She stands up from bed. He asks if she is in his arms. Prachi tells him everyone is waiting for him near the dining table and leaves.
At the dining table, Vikram asks Pallavi if she is fine. Pallavi says she is fine. Dida comes there and asks if Pallavi is fine. Pallavi says she is fine and asks why they are asking her. Dida says Tailor accused you that's why we are asking. Pallavi asks them to not think about it. Vikram says Prachi is understandable so there is no problem. Pallavi says anyone may react in that way as they know me. Vikram asks Priya for the newspaper. She goes to get it. Ranbir and Prachi join them for breakfast. Then Alia and Rhea discuss today is going to be their good morning. Priya gives the newspaper to Vikram. He reads the paper. Alia asks Rhea to know from her friend if their work is done or not. Rhea gets to know it's done. Pallavi calls them. Rhea and Alia join everyone. Everyone receives video notifications. Pallavi asks them to not check their phones while eating food. Alia takes the newspaper in shock and tells everyone that it is written in the newspaper that Prachi's affair is with Ranbir's cousin Sid. Everyone gets shocked. Rhea receives a call. She gets shocked after attending the call. She asks everyone to check if they receive any video of Sid and Prachi's dance. Everyone opens their phones and watches the video in shock. Alia and Rhea enjoy it.
Episode ends.
Also See: