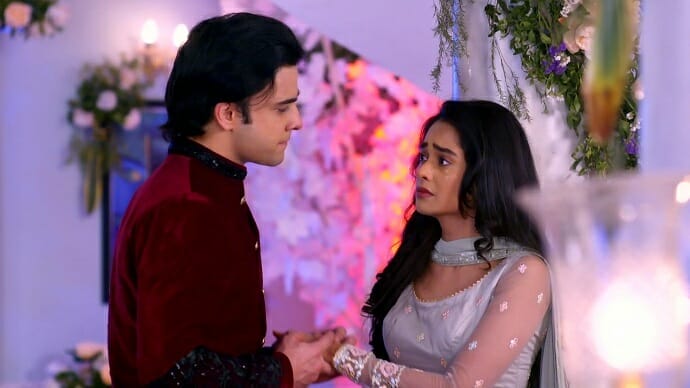 Kumkum Bhagya 21st December 2022 Written Update On TellyExpress.com
The episode starts with Prachi asking Ranbir to change his careless behavior as she won't stay with him always to take care kg him. Ranbir looks on. Prachi realizes what she said and she says she will return setting her makeup. She runs to the balcony in tears. She breakdown recalling Ranbir's words. Shahana comes there. Prachi asks God why he is playing with her life by separating loved ones from her. She cries for her baby's future and fate. She tells god that he is doing wrong. Shahana comes to Prachi. Prachi says her dreams are broken and her life is filled with darkness. Shahana asks her to fight back and tells her that darkness will and with a sunrise. Prachi says she lost hope and she feared that this marriage will happen. Shahana asks her to wait until Rhea went for a DNA test and it's good if you reveal the truth to everyone. Prachi says Mihika's life is more important to me otherwise I may be told Rhea's truth to everyone. Dida comes there and asks what the truth is. Shahana says Prachi is not liking her honeymoon trip to London. Dida says I thought Prachi wants to marry Ranbir. Prachi says Ranbir didn't try to stop this marriage. Dida says you know why this marriage happening so let's come as guests are discussing why you left in that way.
Rhea vents her frustration to Alia. Alia asks her to not show the tension on her face. Dida brings Prachi to the mandap. Sid hurts Ranbir's ego. Ranbir calls Rhea and asks her to come for a DNA test. Rhea asks him to wait but he didn't listen and forcefully takes her asking others to continue the marriage. The waiter drops juice on Aryan's dress. Aryan goes to change his dress. Pandit asks someone to cover the Bride and groom's faces. Alia covers their faces. Mili enters Aryan's room. She flirts with him and tells him that her answer is yes to his proposal which he did last year. He tries to say he did it mistakenly but she tries to leave and collides with Shahana. Shahana asks her what happened. Mili says she accepted Aryan's proposal and leaves. Aryan says to Shahana that it's a misunderstanding. Shahana says you may be shy and she leaves saying she forgot why she came. Aryan follows her.
Doctor asks Ranbir where is Rhea. Ranbir says Rhea is inside with the nurse. The doctor enters the room. Ranbir thinks about why he is missing Prachi. The nurse comes out. The doctor tells Rhea that she is not pregnant and is fooling the entire family. He says he will tell the truth. He asks why she is cheating on her loved ones. Rhea asks him to stop lecturing her and asks him how much money he charges to support her. The doctor says I got test money and reports will talk. He asks Rhea to leave opening the door. Rhea leaves with Ranbir.
Shahana tries to meet Prachi. Pallavi stops her. Aryan waits for Ranbir. Vikram thinks Sid, Prachi, and Ranbir are not happy with this marriage and Rhea is also looking nervous. Prachi prays to god to stop the marriage. Dida collapses holding her chest. Everyone rushes to her. Alia asks Sid and Prachi to not wake up from mandap. Pandit agrees with her. Vikram and Sid take Dida inside. Vikram goes out to call Doctor. Sid asks Dida to not worry. Dida slaps him and tells him that she acted to stop the marriage and says she will stop the marriage. Sid says even I don't want to do this marriage. Alia hears them.
Episode ends.
Also See: