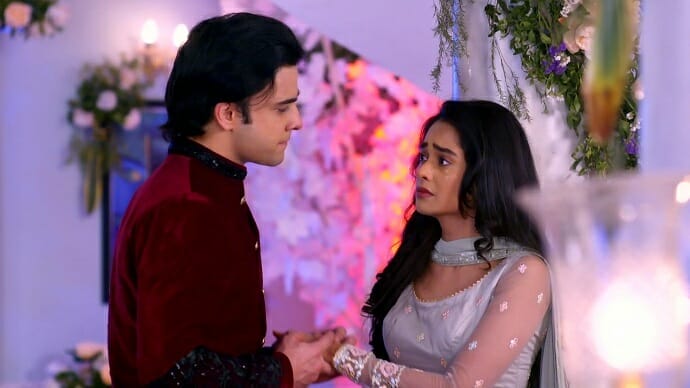 Kumkum Bhagya 21st July 2022 Written Update On TellyExpress.com
The episode starts with Ranbir asking to stay. Prachi also says it is too late and she is going to leave. Alia gives Prachi way to go.
Pallavi stops Prachi and says she can't go and says this bag will stay here. Prachi says in this bag there are her things. Shahana defends Prachi. Pallavi says not to talk when she is talking. Pallavi says her daughter in law is not going anywhere. Alia says this is not what we talked about you should say that Rhea is your daughter in law. Pallavi tells her to shut up. Rhea asks Pallavi now she is not going to like her. Pallavi says not now.
Pallavi says to Prachi what is going on in this house until yesterday I used to say that Rhea is pregnant and now I am going to say Prachi is pregnant. Pallavi takes Prachi inside. Pallavi says she will only say sorry when she feels guilty and she says sorry to Prachi. She says sorry for everything she has done. Alia also called you Barren woman and I let her. I am sorry I couldn't become a good mother in law. I am sorry for what I did. Pallavi says Alia always used to provoke me and tell you. Pallavi says I am not saying there is no mistake in me I am saying my eyes and ears were closed. I couldn't hear my heart.
Pallavi asks Prachi for her forgiveness. Pallavi says how can my 9 months love be smaller than your 7 phere and you won and there are also 2 months. Pallavi says sorry on behalf of herself and her son. Prachi says she couldn't do anything about Ranbir. Pallavi says not to talk like that and asks her to stay here. Daljeet hugs Pallavi and says she got her daughter in law back.
Prachi comes into the room and thinks of what happened. Prachi cries to herself. Shahana sees Prachi. Prachi says to her that Pallavi asked me for forgiveness. There is no need to do that. All I wanted was a mother not mother in-law now I got it. Ranbir thinks thank you Prachi atleast you stayed because of Mom. Shahana goes to bring water for Prachi.
Rhea and Alia come into their room. Alia closes the door. Rhea asks why did she do it. Alia says so that you can release your anger. Rhea says she can't believe what happened. Rhea asks Alia if what there happened is true. Rhea says she never Pallavi to bring her back as I was her choice and she likes me. She also knows that I am pregnant even if it is a fake pregnancy for her it is real. In which house Prachi has more respect and love than me. I am not going to stay in that house. Alia says if you leave you will not be able to come back. Rhea says she will no leave she is going to act like she is leaving and all of them are going to stop me like they stopped Prachi. Rhea tells Alia to come when she heard her scream and tells her to take care of her timings.
Pallavi brings water for Prachi and gives it to her. Pallavi makes Prachi get up from the floor and makes her sit on the bed. Pallavi says she is not going to talk about what happened. Pallavi says to forget what happened. If she can't then share it with her. Pallavi says only the person who hurts others knows how deep the hurt is. Pallavi says I understand you and you try to understand me a little. Prachi says she always thought of as her daughter and understood her and says she has no complaint with her. Pallavi says if she is this good then whatever mistakes she made are looking at her but you're making be guilt free but no word in this world can make us guilt free. Prachi says the word son.
Episode ends.
Also See: