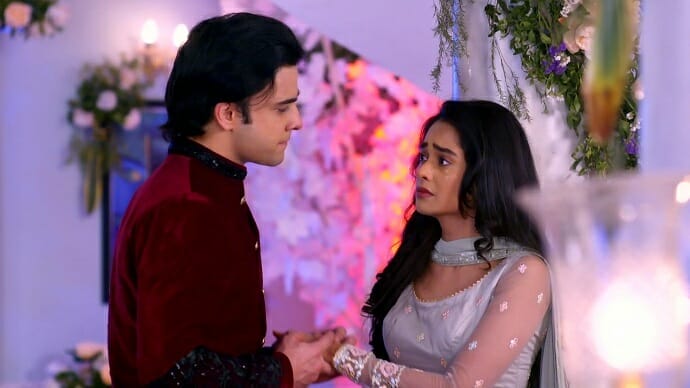 Kumkum Bhagya 23rd January 2023 Written Update On TellyExpress.com
The episode starts with Vendor asking Ranbir if the bangle size is perfect. Ranbir sees the bangle and says it's perfect. Prachi tells Mauli 'red bangle suits her'. Mauli says Dad said he will bring me red bangles. Prachi says I'm wearing it to you first. Ranbir purchases a pendant too. Mauli says to Prachi that dad knows what she likes and says Dad wouldn't like this makeup. Prachi says boys don't know what girls love and he will like it after seeing you. The shopkeeper says to Ranbir 'you know all things about your daughter and you're unique'. Ranbir receives Pallavi's call. Pallavi asks if he got the things he needed to take. Ranbir says his shopping is ended and says her things are going to be best for her. He disconnects the call and leaves. Prachi makes the little girl ready and says her choice is best. On another side, Ranbir thinks his choice is perfect. Dadi and Shahana go to meet Prachi. Dadi says she is recalling Pragya seeing Prachi. Prachi asks the little girl to stay with Shahana and she goes to prepare prasad.
Mauli asks Shahana if her make-up is good. Shahana says it's good. Ranbir is shown to be talking to a little girl and asks her who did her makeup? Ranbir asks the little girl if her mom did the makeup. Prachi prepares halwa. Shahana comes there and tells Prachi that Mauli's father doesn't like her makeup. Prachi says some people can't understand and I will make him understand. Prachi says bhog is completed and she goes to talk to Bau ji.
Pallavi and Dida say to Ranbir it's good. Ranbir says it's not good and removes the little girl's make up. Prachi meets Mauli's father and tells him that Mauli's makeup is perfect. Dadi asks Prachi to start the Kanjar puja. Prachi takes the kids with her. Dadi says to Mauli's father Prachi is seeing her baby in Mauli. On another side, Ranbir and his family prepare for puja. Pallavi feels bad seeing Ranbir's state. Prachi performs puja to girls and distributes bhog to kids. Prachi misses her daughter while feeding Mauli. On another side, Ranbir sees his daughter in other kids and misses his daughter. Ranbir and Prachi blame each other for Panchi's death. Dadi asks Prachi to forget her past and she asks Prachi to tie holy thread to kids and apply Kajal to them. Prachi applies Kajal to kids and thinks about how her baby looks.
On another side, Ranbir and Prach's daughter Khushi perform Bhajan in the Durga temple. Lady scolds Khushi for leaving the shop to reach the temple. Khushi says she felt maata rani calling her hearing konch sound. Lady scolds her and sends Khushi to sell flowers in the signal area. Khushi goes to sell flowers. She sells flower for 30 to a a lady. Lady pays her 100. Khushi goes to her mom and asks her to return the 70. Khushi's aai gives her 50. Khushi gives that money to lady. Lady who bought the flowers scolds Khushi for cheating on them. The signal goes green. They leave. Khushi feels bad and confronts her mom. She warns Khushi to sell all the flowers. Khushi sells flowers at to correct price with honesty. Her mom sees it and doesn't like it. Prachi goes to the office. Priya informs schedule of appointments to Prachi. Prachi corrects Priya and warns her to be careful.
Episode ends.
Also See: