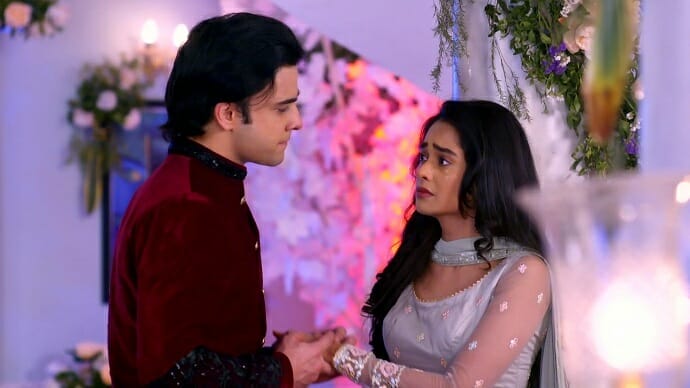 Kumkum Bhagya 23rd November 2022 Written Update On TellyExpress.com
The episode starts with Ranbir noticing Dr. Preeti and asking her how she comes suddenly. Prachi says she called Preeti to tell them about the report result as it's needed to reveal challenge results in front of everyone. Pallavi asks Dr. Preeti if the DNA matched or not. Vikram asks Preeti to reveal. Dr. Preeti says it is matched. She tells that Rhea's baby DNA matches well with Ranbir's DNA perfectly, which means this baby is of Ranbir. Rhea smiles. Prachi, Dida, and Sid get shocked. Alia slowly asks Rhea how it happened. Rhea reveals how she switched her sample with Prachi's sample. Alia says it's unbelievable. Rhea says Prachi accused me which is unbearable so I did it. Prachi asks Preeti if she is sure about the result. Preeti agrees.
Prachi asks how can it match. Rhea rebukes Prachi. Alia says you challenged Rhea and now it's proved that Rhea is carrying Ranbir's baby. Rhea says to Prachi to never raise questions about her baby as it's proved that she is carrying Ranbir's baby. Prachi says the test reports are wrong and Rhea is not pregnant. She says Rhea may did something with the report. Pallavi warns Prachi to stop accusing Rhea and asks her to apologise to Rhea for accusing her. Prachi tells her she won't apologise to Rhea and leaves. Ranbir follows Prachi. Rhea says to Pallavi that she will leave the house with Ranbir's baby if Prachi didn't apologise to her. Pallavi gets shocked.
Ranbir stops Prachi from closing the door. He asks why she is angry and asks if she is ashamed of him. Prachi says it's not your baby so don't doubt yourself. Ranbir asks why she is angry when she is sure about him. Prachi asks him to leave her for sometime. Ranbir agrees. Rhea thinks everything gets settled. Alia stops her and tells her that her move is smart. Rhea says it's smart move but no one comes to stop me including Pallavi. Alia says they will come and now they are in shock. She asks why she hid from her that she exchanged the sample. Rhea says I realised that Prachi took my sample making me unconscious that's why I stole Prachi's sample. She sees Pallavi comes there through the mirror. Rhea in tears tells Alia that no one in this family considers her as their family that's why they didn't make Prachi apologize to her so she will leave the house. Pallavi says you won't leave this house and I will make Prachi apologise to you and if she won't apologise then Prachi will lose me forever. Sid hears it and leaves. Rhea hugs Pallavi.
Sid recalls everything. He meets Prachi and asks her to apologise to Rhea. Prachi asks why he is saying it. Sid says Rhea is doing drama. Prachi says Rhea is not pregnant and we have to know how the report comes in Rhea's favor. Sid pleads with Prachi to apologise to Rhea for the namesake before the situation goes out of control. Prachi refuses. Sid says Rhea is making Pallavi against you so tell sorry to Rhea which will make Rhea confident then we can play our move. Prachi looks on. Pallavi tells Rhea that she is the Bahu of their house and she won't let anyone insult her. She assures Rhea that she will take good care of her. Alia says Pallavi cleared your doubts so stay happy Rhea. Pallavi says Prachi will apologise to you.
Sid comes there and tells Pallavi that Prachi is searching for her. Pallavi asks where is she. He says she is in the living room. Pallavi and Alia leave. Sid holds Rhea and questions her about where is Mihika. Rhea warns him to never touch her if he wants to live safely. Everyone goes to the hall. Ranbir says he sends guests to have food and now we are going to have a private conversation. Rhea asks what's that private conversation. Pallavi asks Prachi to apologise to Rhea directly. Prachi says I hurt you. Alia says you insulted Rhea and challenged her but the result is everyone knows that Rhea is carrying Ranbir's baby and you're carrying someone else baby.
Episode ends.
The episode starts with Alia saying to Rhea thank God you're fine. She asks Rhea to tell her what happened. Rhea says Maata Prachi saved me took all credit and everyone is hailing for her because of your goon. She says she doesn't forgive Prachi and doesn't know if it's starting of the problem or the ending. Alia asks her to not talk badly and tells ger that everything gets settled. Rhea says you're thinking positive but nothing will be okay, Mihika's presence is dangerous to us and I can't bear it if Sid and Prachi don't marry so I'm going to make positive for us. Alia asks what's she planning. Rhea says you will know it and she requests Alia to make her men arrested who tortured her. She leaves. Alia calls the police.
Sid asks Shahana to take care of Mihika. Shahana assures him she will take care of Mihika by becoming her shadow. Prachi comes there to tell them something. She stops seeing Ranbir's performance. Ranbir forwards his hand for Prachi but Rhea joins him. Ranbir escapes from Rhea. Prachi joins Ranbir. They dance together. Shahana, Sid, and Aryan don't let Rhea join Ranbir. Alia notices the courier boy near the doorstep. Alia threatens the courier boy and takes him to her room. Pallavi gets angry seeing Prachi and Ranbir together. Rhea notices Alia taking the courier boy.
Courier boy requests Alia to leave him. Alia threatens with her fingers and asks him to hide in the cupboard by trying his hands. He takes ropes and notices Alia doesn't have any gun with her and tries fo escape. Rhea hits him with a plate. They decide to leave him outside and they hold his feet and drag him out.
Also See: