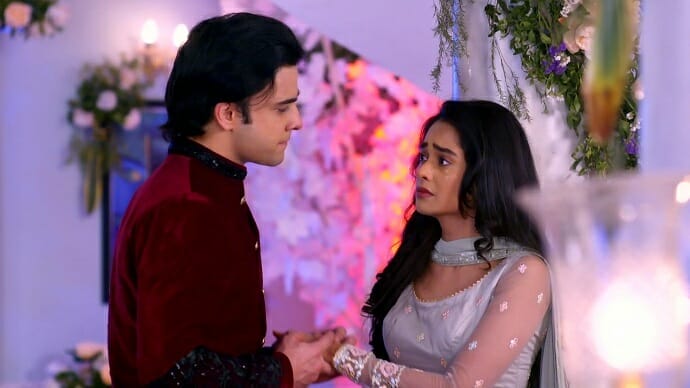 Kumkum Bhagya 24th January 2023 Written Update On TellyExpress.com
The episode starts with her assistant giving a file about Prachi's appointments to Prachi. Prachi sees a box shaking and a woman is right down the box. Prachi saves the woman and asks who put the box there. Prachi sees that she is hurt and does first aid to her. She tells one of her employees to check the CCTV footage and find out who put the box there. The employee agrees. Her assistant says the chairman is calling for her. Prachi leaves from there.
Prachi comes to the meeting. The chairman introduces Prachi to their client as their senior manager and the chairman also introduces their client to Prachi. The chairman asks the Client Mr. Gallohar if their building is completed or not. Gallohar says there is no use as they couldn't vacate the old lady from their site. The chairman says they are going to send Prachi to convince the old lady and she will get the job done. Gallohar makes fun of Prachi and says if she really convinces the old lady to vacate the house then he will make Prachi his company chairman. Prachi says she will not become their company's chairman and says if she convinces the old lady to vacate then he will learn some manners. Gallohar gets angry with her and asks if he knows who she is talking to? The chairman defends Prachi and says they can continue if he agrees to Prachi's terms if not he asks the clients to return their money Rs 80 crores to them. Gallohar stays silent hearing this.
Kushi's Amma brings her for a Kanjar Pooja to a rich household. Khushi's amma says to Khushi that she can sit in the Pooja and says they will feed her and give a gold coin to her. Khushi's amma asks Khushi to give the gold coin to her after she gets it.
Mohini is shown to be convincing a child to sit for the kanjar Pooja. The child says she doesn't want to sit in it and says Khushi can sit in it showing her. Khushi's mother makes Khushi sit in the Pooja. Mohini says to Khushi that she doesn't want this child to sit in this Pooja as her blood might be dirty. Khushi's mother takes Khushi and apologises to Mohini. Khushi says to Mohini that her blood is not dirty and gives a lecture to Mohini. Khushi's mother apologises to Mohini. Mohini asks her maid to throw them out. The maid throws Khushi and her mother out of the house. Mohini while walking inside accidentally slips and the fire in the Aarti ki thali falls near a curtain. The curtain catches fire and Mohini's child Nisha gets stuck in the fire. Mohini worries for Nisha. Khushi hearing the shouts of fire goes inside. Mohini calls the fire station and asks them to come quickly. Khushi takes a blanket wets it and covers herself with it and goes to Nisha and saves the child from the fire. Khushi's mother scolds Khushi for going into the fire and takes her from there. Mohini stops them. Mohini sees that Khushi's leg is burnt and asks her maid to bring ointment. Mohini apologises to Khushi and thanks her for saving her daughter. Mohini gives first aid treatment to Khushi and sees the birth mark of Khushi and says it is a unique birthmark. Prachi thinks of her child seeing a necklace that she made after losing her child just like the one Ranbir made for their daughter from the same store. Prachi leaves from there as her assistant reminds it is time for them to go meet the old lady.
Khushi's amma takes the gold coin from Khushi and asks Khushi to sell all the roses today. Khushi agrees.
Ranbir loses his bid again to Alia's man. Ranbir thinks why does he always lose the bid to the Sachin. Ranbir decides to talk to him but Aryan tries to stop him. Ranbir hears Sachin talking to Alia on the phone and understands that he is Alia's man. Ranbir takes the phone from the Sachin and tries to talk to Alia but she cuts the call. Ranbir asks Sachin if he is Alia's man. Sachin warns Ranbir to not do like this again. Sachin says Alia will destroy him. Ranbir says if Alia is here then he would have killed her. Aryan takes Ranbir away from there forcefully.
Prachi tries to convince the old lady but the old lady asks Prachi to leave. Gallohar's man says to the old lady that they will give double the money for this house and she can also shift to a flat. The old lady says she doesn't want the money and says she only wants to live peacefully in this house as she has a lot of memories with it. Prachi says she can understand her feelings. Gallohar's man says for thier project they need to destroy this house. Prachi says this is not a house but a home to her and comments on it.
Episode ends.
Also See: