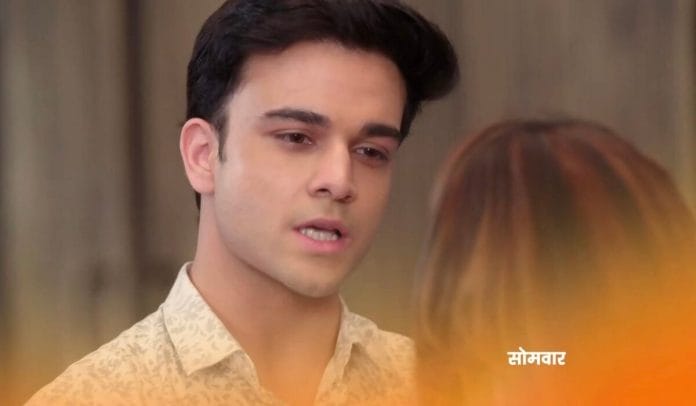 Kumkum Bhagya 24th May 2022 Written Update on TellyExpress.com
The episode starts with Shahana saying you guys are going to run away post marriage too. Rhea drops the bottle. Prachi asks if she is fine and asks when she came. Rhea says fine and mom send me here to tell you that Ranbir wanted to meet you first. Prachi feels happy and leaves from there with Shahana. Rhea in tears calls Alia and tells her that they are losing and I'm thinking why I'm alive. Alia asks her to tell what happened. Rhea says I went to pass information to Prachi and I heard that Prachi wants Ranbir to make her wear the mangalsutra and she is planning to leave anywhere with Ranbir and if Prachi told it to Ranbir then he will leave with her and I'm nothing and what I can do without him. She fries saying she doesn't have anyone except her and Ranbir. Rhea says Prachi is winning with luck and I'm not lucky. Alia says he married you too and still you can do many things but you need to think. Rhea smiles and says it won't happen and we can't do anything as it's over. Alia says this fight won't end and you have my blood so do something to get Ranbir. Rhea thinks she has to separate Prachi and Ranbir.
Rhea says Prachi wants to have a relationship with Ranbir, so the two real sisters' relationship will end with her death. Shahana goes to get a cab. Rhea takes the broken glass piece to attack Prachi but she couldn't when Shahana comes there with a cab. Prachi leaves. Rhea's foot stuck in the wire. That time Prachi leaves in a cab. Rhea chases their cab.
Ranbir sees mangalsutra. He recalls his moments with Prachi. He thinks to tell Prachi that he wants to live with her like before. He thinks to make her agree as she loves him too. Shahana asks Prachi what is she thinking. Prachi tells she is day dreaming that she proposed to Ranbir and tells him that she loves their kids more and he makes her wear the mangalsutra. Shahana says aww. Prachi says she is feeling scared, hope noone's eyes fall on my happiness. Rhea says she wint let Prachi snatch her happiness. Shahana tells Prachi that everything will be fine. Prachi says she will tell Ranbir that his third dream is going to get fulfilled. The driver says they arrived at the hospital. Prachi sends Shahana to get mangoes for Ranbir.
Rhea tries to hit Prachi but another car hits Prachi before her. Prachi falls down on the road injured. Rhea gets shocked. Ranbir gets a bad feeling that something happened to Prachi. He tries to go out but the Doctor stops him telling him Prachi is fine. Ranbir tells he needs to meet Prachi. The nurse gives him an injection. He falls unconscious. They make him sleep. People gather around Prachi. Rhea thinks to leave Prachi in that state but she couldn't recalling her Mom words that they need to take care of each other. Rhea rushes to Prachi and asks her to not close her eyes and tells her that she won't let anything happens to her. She asks surrounding people to get stretcher.
Episode ends.
Also check: