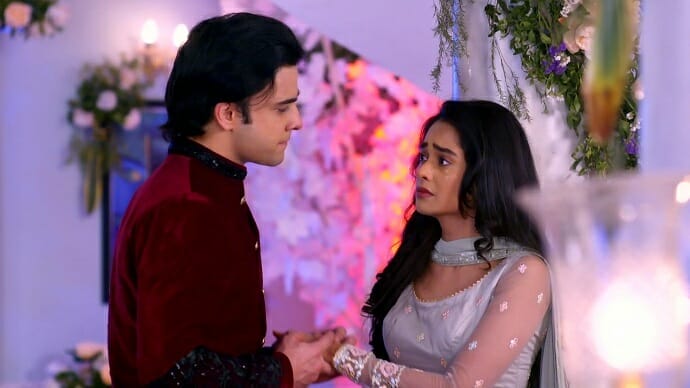 Kumkum Bhagya 25th January 2023 Written Update On TellyExpress.com
The episode starts with Prachi saying to aunty that they won't destroy her memories if she gives her property to them. Aunty asks how it's possible. Prachi says they will place her house as it's at the top of the building they are going to construct using the technology. Manish says to Prachi its an expensive process. Prachi says it's important and tells aunt about the facilities they are going to construct in her place. Aunt agrees to the deal. She asks her to get the papers. Prachi gives her papers. Aunty signs on them.
Dida and Pallavi pray to Maata rani for Ranbir to get the project. They discuss about it. Ranbir returns home and overhears their discussion. He goes inside and tells Dida and Pallavi that finally he got the project. Pallavi and Dida feel happy and hug him. He asks Pallavi to prepare gajar ka halwa for him and tells her that he needs to go out. Pallavi and Dida go to prepare halwa. Sid asks Ranbir why he lied to them. Ranbir says it's needed for their happiness and now we know Alia's conspiracies so I will be alert from here onwards. Sid happily hugs him. Ranbir promises Aryan that he will make their house condition like before. Pallavi comes there with halwa and asks if he didn't go to freshen up. Ranbir asks how she prepared it quickly. Pallavi says she prepared it already as she knows he will get the project. She feeds him halwa. Ranbir misses Panchi.
Galloher and everyone praise Prachi. Galloher tells Chairmen that he will get a share of 50% in profits. Chairman praises Prachi as a wonder girl and gives a promotion to Prachi and asks her to shift to Delhi as their office head. Prachi feels bad hearing Delhi and she recalls how Ranbir blamed her. Prachi says to chairman she doesn't want to go to Delhi. Chairman says he will fire her from the job if she declines his offer and asks her to rethink. Prachi says she doesn't want to rethink. The chairman fires her and asks her to leave the office. Prachi goes to her cabin. Galloher asks Chairman why he did it. Chairman says it is needed as she refused my offer. Prachi packs her things. Priya tries to stop her. Prachi says he is forcing me to go to Delhi, but I will not go there. Her Assistant asks if there is any problem there. Prachi thinks about Ranbir and leaves.
Ranbir misses Panchi while waiting at the signal. Panchi puts a flower on his lap and goes from there. Ranbir turns to look at her, and sees her going. Ranbir sees a note attached to the rose which asks him to smile. Panchi thinks if he smiled or not. Ranbir smiles seeing the note.
Prachi returns home. Dida and Shahana ask if what they heard is true. Prachi says Ashok fired her. Dadi says it can't be as Ashok likes your work. Prachi says Ashok's ego got hurt as I denied to work in Delhi. Prachi goes to her room. Dadi thinks Ranbir is the reason. Shahana goes to Prachi and asks her to not lose her career because of Ranbir. Prachi says Delhi snatched her loved ones so she doesn't want to return there. Shahana tries to tell her she is not returning to Ranbir but Prachi doesn't listen and closes the door in Shahana's face.
Khushi notices there is no food at home. She asks her mom. Aayi says she didn't prepare food and asks Khushi to get food from Rama. Khushi says she will prepare food but her mother denies it and sends Khushi to Rama's house. Ranbir returns home and sees Prachi waiting for him. It turns out to be his illusion and thinks Prachi can't be back. Prachi sees the moon in tears and misses her daughter.
Episode ends.
Also See: