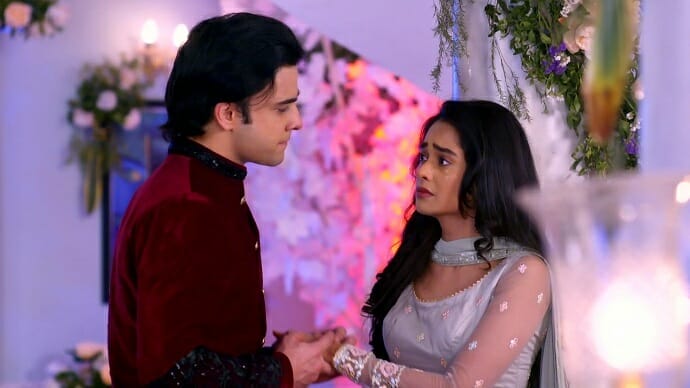 Kumkum Bhagya 25th November 2022 Written Update On TellyExpress.com
The episode starts with Sid trying to start his car but it doesn't work. He steps and sets the car. That time Prachi's dupatta stuck to his watch. Sid helps her. Ranbir comes there and gets angry seeing Prachi and Sid. Prachi and Sid leave in the car. Rhea asks Ranbir to not feel jealous and asks him to accept that Prachi and Sid are one and they are getting married. Ranbir recalls his moments with Prachi. He tells Rhea that he has to talk with Prachi. Rhea says Prachi will lie to you. Ranbir thinks to confront Prachi directly. He starts his car. Rhea tells she will accompany him but he leaves without giving her attention. Rhea runs inside to get her phone. Shahana comes from the backside of the building and joins Prachi and Sid. On the way, Ranbir calls the manager and gets to know there is no international in hotel Shelton.
Ranbir thinks to kill Sid if her catches Prachi and Sid again. Rhea calls Ranbir. He attends the call. Rhea asks him to return home as he may get humiliated because of Sid and Prachi. She requests him to come back. Ranbir tells her he is following Sid's car and cuts the call. Rhea thinks her work is done and Ranbir is going to get hurt again and this time too mission hotel is going to be successful like last time. Rhea calls Alia and tells her that she started a mission against Prachi and tells her what happened. Alia says it's good but I will talk with you later as my men who held Mihika captive are going against me so I'm going to handle the situation. Rhea agrees. Rhea thinks this time she will definitely going to win.
Alia enters the hotel room. She sees a goon who kidnapped Rhea and beats him. He threatens her with a gun and demands 15 lakh money. She says she will get him arrested. He says he will expose them with help of Mihika. Alia slaps him and threatens him to never meet her again if he wants to be safe. She tells them she will give them money and leaves.
Sid, Prachi, and Shahana reach the hotel. On another side, Ranbir is stuck in traffic. Mihika makes sounds. Goon warns her to not make sounds and covers her with a blanket. Alia returns to the room to take her phone. She warns goons to teach them a lesson soon for double crossing her. Goon asks her to go and get them money as they are not scared of her warnings. Prachi asks if they come to the correct hotel. Shahana says it's correct. That time they see Alia and hide under the stairs. Alia leaves from there. Prachi, Sid, and Shahana go upstairs. Ranbir reaches to hotel. He praises the receptionist and gets to know Sid and Prachi didn't book any room in their hotel. Ranbir thinks they may change their plan at the last moment and he decides to check near hotels too.
Prachi finds the room where Mihika is. They notice one goon is coming out so they hide. The Goon comes out and his phone falls near Prachi who is hiding from him. Shahana and Sid think Prachi is going to get caught. Shahana drops the vase. Goon turns then Prachi pushes his phone from her. Goon takes his phone. He receives the call and tells his man that he will be back ordering tea. He leaves. Prachi gets an idea and tells Shahana and Sid that she has an idea to save Mihika.
Episode ends.
Also See: