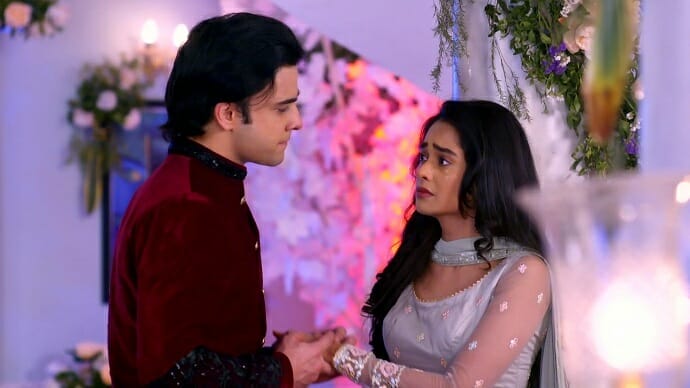 Kumkum Bhagya 26th October 2022 Written Update On TellyExpress.com
The episode starts with Prachi asking Rhea what is she doing as she is talking about sister rights and mistress rights but both don't match. Rhea says their stars match and thanks Prachi for saving her. Rhea sees Alia coming to Prachi with a plate of Diya's. Prachi asks Rhea where is she looking at. Rhea recalls what Alia said and how they changed the Dupatta with Prachi's Dupatta. When Alia comes with a plate of Diya near Prachi. Neha comes and takes Prachi away. Neha explains to Prachi that nothing is going on between her and Ranbir. She says they are doing that just to tease her. Prachi says she knows. and says she knows her husband.
Prachi looks for Shahana. Rhea asks Alia where are the fire works. Alia shows the fire works and says we should make Prachi stand there then it's Happy Diwali for Prachi. Daljeet asks Vikram to light the fire crackers. Vikram says he asked and says nobody wants to do it.
Aryan teases Sid and says if he has enmity with Ranbir then he is his enemy and walks away. Prachi sees that a Diya is going to get blown out and tries to stop it. Rhea says it's time and lights up the 10000 wala that they prepared for Prachi. Rhea sees Ranbir going to save Prachi. Rhea asks Alia to do something. Alia throws another 10000 wala near Rhea to make Ranbir distracted. But Ranbir goes to save Prachi. Ranbir takes Prachi's Dupatta which is on fire and throws it in the air. They see that the Dupatta has exploded.
Ranbir asks everyone what are they looking at Prachi for and they should look at what happened. Prachi says she is fine and it is just an accident. Ranbir asks Prachi not to talk if she can't see what he saw? Vikram questions Ranbir's behaviour with Prachi. Ranbir says "you are looking at my behaviour but you are not looking at what happened." Ranbir questions everyone on how can a Dupatta get blasted. Everyone doesn't answer. Ranbir says if nobody is going to find out then he is going to find out with the help of the police.
Ranbir sees that his battery is dead and throws away the phone. Prachi says to Ranbir that she is not dead. Ranbir slaps Prachi and says until he is alive she should never talk like that again. Parchi apologises to Ranbir. Ranbir comforts Prachi and asks where did the Dupatta come from? Vikram recalls what Pallavi said. Vikram says to everyone that Pallavi brought the Dupatta. Ranbir asks Pallavi if she is the one who brought the Dupatta? Pallavi looks for Alia but she notices that Alia is not there.
Rhea asks Alia why Prachi's Dupatta blasted lately. Alia says she doesn't know. Rhea in anger bangs her head against the wall. Alia tries to encourage Rhea but she lashes out at Alia. Rhea says Ranbir is not going to leave this matter. Pallavi comes and asks Alia to come and answer a few questions of the family. Pallavi brings Alia and says to everyone that Alia brought the Dupatta from the temple. Ranbir asks Alia who made the Dupatta. Rhea hearing this question acts like she fainted to distract everyone. Everyone gets worried about Rhea.
Episode ends.
The episode starts with Pallavi stopping Prachi. She blames Prachi for the differences between her and Vikram, Ranbir, and Sid. She asks next whose relationship she wants to spoil. Is it Rhea and Alia? Prachi feels bad. Pallavi requests Prachi to stop humiliating them in front of guests. Prachi tries to say something. Pallavi stops her and says it is because of you that everything went out of order so talk with Ranbir to make everything right and ask him to tell guests that he just played a prank with Sid and you have to make everyone believe that we are idol family. Pallavi leaves. Prachi controls her tears. Rhea hears everything. She goes to Prachi and asks her to not forget that you're marrying Sid so stay away from Ranbir and leave this house. Prachi stops her. She says I gave tight to mom to scold me, but that doesn't mean anyone can say anything to me so shut your mouth otherwise. Rhea asks if she beats her like Ranbir thrashed Sid. Ranbir comes there and tells Rhea that she can't talk to Prachi in this way. Prachi leaves. Ranbir follows her.
Alia comes to Rhea. Rhea says she can't see Prachi with Ranbir anymore so it's needed to kill her. She says she can't do anything to Ranbir but she can do a lot to Prachi and says to Alia let's do this. Prachi recalls Pallavi's words. Ranbir stops Prachi. He asks her why she is crying? He wipes her tears and signs her to not cry. Prachi tells him that she hurt Pallavi's heart and she asked me to set everything so please set everything right for me. Ranbir says you are doing everything for my mother right, I will do this for you and I will make everything right. They lost in each other. Ranbir wipes her tears.
Also See: