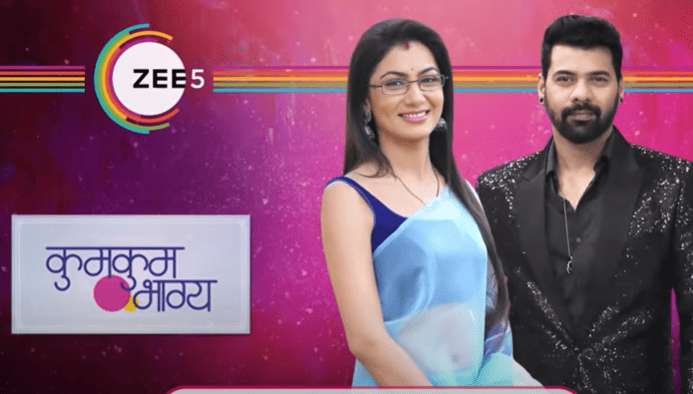 Kumkum Bhagya 27th May 2022 Written Update on TellyExpress.com
The episode starts with Shahana meeting Prachi and asking if she is fine and tells what Rhea said to her. Prachi tells Shahana how Rhea saved her. Shahana asks if it's true. Prachi says she repenting for saving me and she is wishing for my death and told me that we can never become sisters as Ranbir is between us. Shahana asks her to not cry and tells her that she has her as a sister and tells her that she won't forgive her if she does another mistake. Prachi tells Shahana that she won't let Rhea come in between her and Ranbir. The nurse asks Prachi to come with her fir a Checkup. Prachi asks Shahana to give mangoes to Ranbir.
Ranbir senses Prachi's presence. He sees Nurse is taking her to Doctor's ward. He follows her and thinks to surprise her. Pallavi recalls Doctor's words. Rhea meets Pallavi and asks why she called her. Pallavi asks Rhea to hear to the hospital and stay near Ranbir. Rhea says I want to stay near him but he wants to be with Prachi. She feels a vomiting sensation. She tells Pallavi that she will get set with rest. Pallavi says Prachi and Ranbir are alone in the hospital and I don't want them to cross the limit so go to the hospital immediately, can you do that for me. Rhea agrees. Pallavi tells her she is doing it for her and stay with Ranbir and separate him from Prachi. Rhea nods yes. Pallavi prays for Ranbir and Prachi's separation.
The doctor makes Prachi hear the heartbeat of the baby. Prachi gets happy hearing the heartbeat and says my baby is fine. Ranbir hears her and gets shocked and leaves out closing the door. Ranbir feels emotional and recalls his past moment with Prachi about pregnancy. He thinks Prachi didn't tell him that he is becoming a father even after knowing that it's the dream of his life. Ranbir happily shouts that he is becoming a father. He gives money to the nurse and asks him to distribute sweets to the whole hospital. He thinks to know from Prachi why she hid this important news from him.
Ranbir goes to Doctor's cabin and asks her for Prachi. Doctor tells her Prachi is taking a rest. Ranbir goes to Prachi's room and in tears questions why she fooled him with lies and asks why she hid her pregnancy from him. Rhea enters the hospital. Nurse gives her sweet. Rhea takes it. He tells sleepy Prachi that he heard their baby's heartbeat. He apologises to her for shouting at her and he thanks her for fulfilling his dream. He asks her to tell him something. Prachi couldn't move. He feels worried and calls Doctor. Nurse comes there and tells Prachi is fine and she is sleeping heavily because of a sleeping pill and your wife and baby are fine. Ranbir sits near Prachi holding her hand.
Episode ends.
Also check: