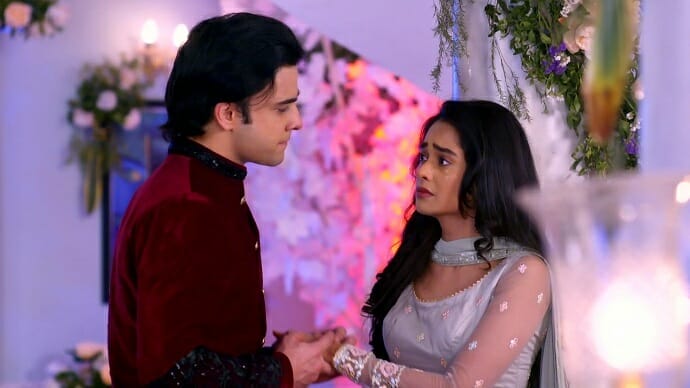 Kumkum Bhagya 28th October 2022 Written Update On TellyExpress.com
The episode starts with Dida asking the police why they called them for inquiry if they don't want to question them. Constable says madam doesn't doubt you guys that's why she called both of you first to the inquiry. Dida asks why they called them if they know they are innocent. Constable says it's their duty. Inspector Yamini asks them if they notice anyone suspicious. Dida says everyone is their guest. Yamini says Prachi is your favorite, isn't it? Dida says you have to ask her, I may lie to get saved. Yamini says you love Prachi, isn't it? Dida says she loves her so much. Vikram says he feels Prachi as his daughter. Yamini tells that where Prachi is getting so much love, where she is getting attacked too. She asks them to not inform anyone about her questions otherwise they come here preparing answers, I need to catch the culprit by reading everyone's eyes. They agree. She asks them to send Sid inside. They agree and leave the room.
Constable asks Yamini whom she doubts. Yamini says she doesn't doubt anyone till now and let's decide after meeting everyone. Ranbir apologizes to Prachi for shouting at her. Prachi asks if it's from his heart. Ranbir says of course, do you want written proof. Prachi says yes. Ranbir says he will write that she is careless and irresponsible. Prachi says she is not mad to read his nonsense. She is about to leave. Ranbir asks her to be careful. Prachi stops. Ranbir leaves the room. Prachi thinks he doesn't know how to apologise.
Aryan gets disappointed with the phone call. Shahana notices it and asks him why he gets disappointed after the phone call. Aryan says it's about Mili and I can't tell you as you judge me. Shahana promises him that she won't. Aryan tells her he will tell her someother day and leaves.
Yamini asks Sid why he looks tense when she didn't even question him. Sid says he is not tense and she can talk to Prachi to know that he cares for Prachi. Constables say Sid looks innocent. Yamini asks if someone dislikes Prachi. Sid recalls Rhea and says yes. Yamini asks if they ever fight with each other. Sid says yes. Yamini asks what kind of fight. Sid recalls Alia's warning. He tells her she is misunderstanding, they are sisters and love each other. Yamini asks him to send Rhea and Alia inside. He leaves. Yamini suspects Sid is hiding something from them.
Aryan comes downstairs and asks if Sid didn't come out. They deny. Aryan asks why they are talking so much time. Pallavi says it's the general investigation and asks why he looks tense. Aryan says he doesn't. Shahana thinks about what happened to him. Dida asks Shahana what is she thinking. Shahana says nothing, everyone has a question mark that what are they questioning inside? Vikram says questions will be normal. Aryan asks what they questioned them. Vikram says they want to know who's closer to Prachi and who's not. Alia and Rhea hear it. Rhea asks what she asked. Dida reminds him of Yamini's request. Sid comes out. Shahana asks him what they questioned him. Sid is about to say but Dida stops him. Sid asks Rhea and Alia to go inside. Dida asks them to go.
Rhea and Alia enter the room. Yamini asks them to not discuss what she questions them outside. Rhea says because you don't want others to prepare their answers. Alia alerts her. Yamini says Dida might inform you. She asks who loves Prachi more from them. Rhea says she loves Prachi. Alia says they all love each other as family. Yamini asks what kind of relationship they share. Alia tells Yamini that Prachi feels that Rhea is her favorite but it is not like that and I love both Rhea and Prachi. Yamini says I understood how much you love Prachi. Yamini asks what's the date of birth of Prachi. They look tensed. Yamini says sorry, they are twins so they share the same birth date. She asks them to leave. They leave. Inspector says she doubts someone. Constable asks who's from Rhea and Alia. Yamini smiles.
Alia mocks Prachi. Dida and Shahana rebuke her and supports Prachi. Inspector comes downstairs and says she questioned everyone. Rhea says she didn't question Prachi. Yamini says Ranbir and Prachi are not on her list. She asks Alia to give her the phone. Constable takes her phone. Yamini opens Alia's phone and asks why she messaged Tailor that work is done. Alia says he made the dupatta. Yamini asks her to call him. Alia says he may asleep. Yamini says he will wake up with her call. Yamini calls Tailor and asks him to come to Kohli's house. He agrees. Yamini asks them to get her tea until the tailor arrives. Rhea gets tensed.
Episode ends.
Also See: