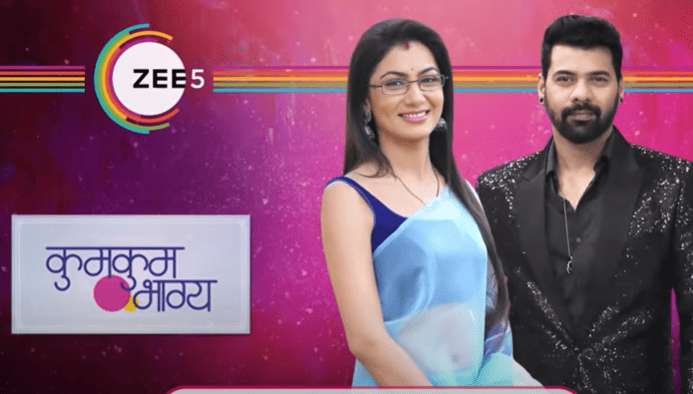 Kumkum Bhagya 2nd June 2022 Written Update on TellyExpress.com
The episode starts with Ranbir coming into the house he bought and thinking of his memories with Prachi. The past owners daughter comes and greets Ranbir. His staff asks if they know each other. She says Ranbir and Prachi have stopped here for some time. Ranbir corrects her says they stayed here for some time. Ranbir asks them to come to the party. His staff asks Sir you can buy a flat at rich place why do you buy this place. Ranbir says it's not just a house there are a lot of memories with Prachi here. The staff asks if it is that important he could have bought it even before he started the start up. Ranbir says he wants to buy with his own money. The owners daughter says her mother will attend after 8 o clock. He says it's perfect.
Rhea dances and Alia asks about it. Rhea says she saw yesterday Ranbir is feeding Prachi she got a lot angry but she did not react. Ranbir did not wish Prachi today. Alia asks her how she knows about it. Rhea says she heard what Shalu and Prachi are talking. Rhea says she thinks Ranbir is going to propose to her today. Prachi receives the parcel send by Ranbir. Alia says how Prachi left without saying anything. Rhea says she is angry as Ranbir forgot about their anniversary. Alia says it's better if their relationship gets ended.
Designer informs Ranbir that Prachi received the parcel. Prachi throws a parcel. Ranbir calls Prachi and asks her to wear the saree for the business party. She cuts the call in anger. Ranbir enjoys her anger. Prachi thinks he forgot our anniversary and it's doesn't matter to me anymore.
Vikram and other opponent ask Mr. Khanna how he agreed to Ranbir's proposal when he denied their proposal. Mr. Khanna says Ranbir knows about love and marriage and I'm impressed with his thoughts. Shahana asks Dida if she remembers about today. Dida tells her she knows Ranbir and Prachi we going to Mr. Varma. Prachi looks on. Pallavi tells Ranbir that she is proud of him as everyone is talking about him. Dida takes Ranbir with her. Rhea introduces herself as Ranbir's wife to Mr. Khanna. Mr. Khanna tells Ranbir loves her so much and his words are like poetry. He asks how they stay at home. Rhea says they are a normal couple. Mr. Khanna tells Ranbir makes him agree in the yesterday only. Rhea goes to attend to other guests. Mr. Khanna tells Vikram that Ranbir insisted to organise an immediate party.
Dida tells Ranbir that she saved his surprise when Shahana asked her but she is feeling bad. Ranbir says it's a matter of hours and Prachi gonna love my surprise. Shahana tries to make Prachi feel better. Prachi asks her to not try to know whether Ranbir remembered the anniversary or not as it doesn't matter to me anymore. Ranbir sees Prachi in the saree that he chose for her. He feels mesmerized. Prachi leaves seeing him. Ranbir follows her.
Alia tells Pallavi that Ranbir become a business kind. Rhea joins them. They praise her look. Rhea tells them how Me. Khanna praised her and he told me that our life is great and for one moment I thought it was about Prachi but he said it happened last night so it's about me. Pallavi says he realized your love and I'm so happy. Ranbir tells Prachi that she is looking great. Prachi says you don't need to tell me. Ranbir says he is telling truth from his heart. Prachi indirectly calls him a lier.
Episode ends.
Also check: