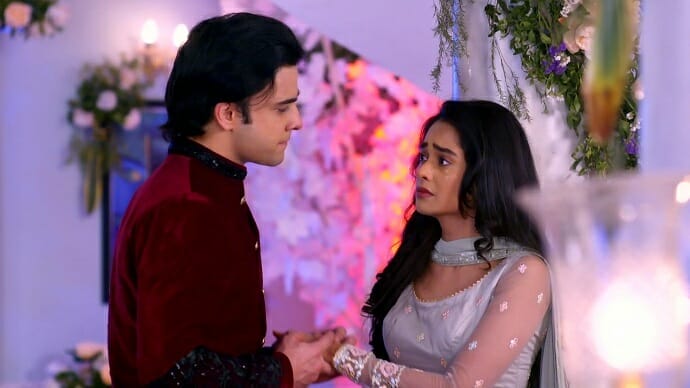 Kumkum Bhagya 31st August 2022 Written Update On TellyExpress.com
The episode starts with Prachi saying to Ranbir that she remembers all their memories as she loves him. Ranbir also says he remembers that when he first met her 'she wore a red colour suit'. He says he remembers this because he also loves Prachi a lot. They hug each other.
One of the traffickers gives money to the border person. The border person says his men will be at the border for 30 min and he says to another goon that if they came after 30 min then they will have to cross the border tomorrow and they have to pay the money again. The goon calls the contact and says what the border person said. The contact says that 30 min is enough. Mona talks to the contact and says 30 min is not enough as there is also Ranbir. The contact says we will leave him here.
Shahana hides the phone in the car. So that the goons do not find that she called for help. The goons see that Shahana is in the car. They capture her. Ranbir and Prachi talk to each other. Prachi says she said to him that she loves him. Ranbir says she didn't and calls her a liar. Ranbir asks Prachi to tell I love you in a romantic way but Prachi doesn't and they talk about it. Prachi sees goons taking girls from the room. She asks Ranbir to save them. Ranbir asks how can he go out as they are locked. Prachi asks him to go out through the window. Ranbir goes out through the window. That time Mona and her men take out Prachi.
Prachi sees Shahana. She asks the Goons to not harm her sister. Shahana asks if she is drunk. Mona tells her she made them feel inebriated with spray. Prachi calls for help. Ranbir comes there. They tickle goons then Ranbir and Prachi hug each other. Mona and her men fail to separate them. Shahana waits for Vikram's arrival.
Vikram arrives at the location with family members. They get shocked seeing the scenario. Rhea is about to call Ranbir. Pallavi closes her mouth. Shahana sees them and thinks why the police didn't come. She asks them to come later as there is no space for you guys in tempo. Ashok asks who are they. Pallavi says she kidnapped the girl and here is no place so we will leave. Ranbir calls Pallavi 'mom'. Pallavi says he is not her son. Ranbir asks why she is denying it. Prachi asks Pallavi why she is closing her sister's mouth. Ashok asks what are they talking about. Vikram and everyone go inside. Ashok asks Mona to use the spray. Prachi makes her fall. Mona feels inebriated when she sprays it on her face. Ranbir and others fight with goons. Ashok reminisces about the deal and he tries to take Prachi but Sid stops him by throwing something at his eyes. Sid goes inside to help others.
Ranbir comes out. Prachi complains to Ranbir that Ashok gutted her by holding her tightly. Ranbir beats Ashok. Police come there and arrest the goons. Dida asks the inspector if they get any reward. Inspector tells he will make them get it. Dida asks him to distribute to poor people. Later Vikram asks Shahana to be with Prachi. Alia blames Prachi for everything. Pallavi says we can't blame her and she is carrying the kid of Kohli's. She leaves saying good night to Alia. Alia leaves. Sid apologizes to unconscious Ranbir and proses him to set everything. Rhea sees Sleeping Prachi. She asks god why he makes Prachi return.
Episode ends.
Also See: