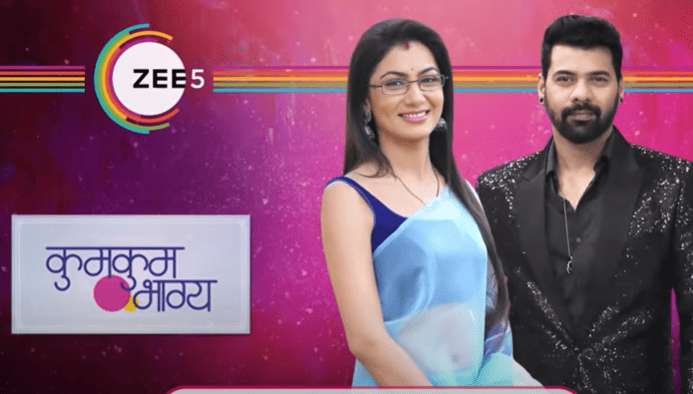 Kumkum Bhagya 31st May 2022 Written Update on TellyExpress.com
The episode starts with Ranbir preparing to welcome Prachi with aarti. Pallavi and Dida ask why he is doing it. Ranbir says Prachi deserves this warm welcome. He welcomes her with Aarti. Everyone looks on. Ranbir says I know you don't need my support but it's my responsibility. He towards his hand. She holds him. He brings her inside and asks what she likes to eat. Prachi says leaves saying she doesn't want to eat anything and will ask Mauwa if I feel hungry. Ranbir asks Mauwa to know what Prachi likes to eat. Rhea asks Ranbir what's happening. He leaves telling he will talk later.
Pallavi asks Dida if she asked Ranbir to welcome with Aarti. Dida says she doesn't. Vikram says it's good to welcome in this way. Rhea smiles and leaves from there. Aliya thinks about why she is behaving in this way. She goes to Rhea's room. Rhea dances with her happily. Aliya asks why she is happy when Ranbir is welcoming Prachi. Rhea says Ranbir started realizing my love and I felt that he is regretting not realising my love until now. Aliya asks if he told her. Rhea says she felt it when he hugged her tightly and he is so happy that I'm with him not because of Prachi's accident. Aliya asks really. Rhea says yes. He realised I'm valuable to him. Aliya looks ok but tells her she is happy for her.
Shahana asks Prachi why didn't she reveal her pregnancy to Ranbir. Prachi says I'm dreaming to tell him but it's good that I didn't tell him as I saw him hugging Rhea in happiness. Shahana looks on. Ranbir thanks God in the mandir for making Prachi enter his life. He thanks God for saving Prachi's life. He prays to god to give him a daughter and tells God that he won't leave Prachi. Prachi asks how can he feel happy when I met with an accident? Shahana says it might be some misunderstanding. Prachi says He is so happy and I never saw him this much happy. Ranbir remembers about his 3rd anniversary and he plans to gift her something special.
Prachi says it's good that's why God stopped me. Shahana says he will find it soon. Prachi says he has to feel her pain. Shahana consoles her. Muawa brings food to Prachi and tells Shahana that Dadi is calling her to eat dinner. Prachi sends Shahana to eat her food. Shahana sees Ranbir and recalls Prachi's words. Ranbir thinks to care for Prachi while acting like taking care of Shahana. He asks her how's baby. She tells him he is fine. Ranbir asks her to stay in their place and tells her he will name her Baby. She agrees. Ranbir notices Prachi is not eating because of her backache. Ranbir makes her eat food. She signs him she is full. He wipes her mouth with a tissue and leaves with tray. Prachi wonders about his behavior.
Episode ends.
Also check: