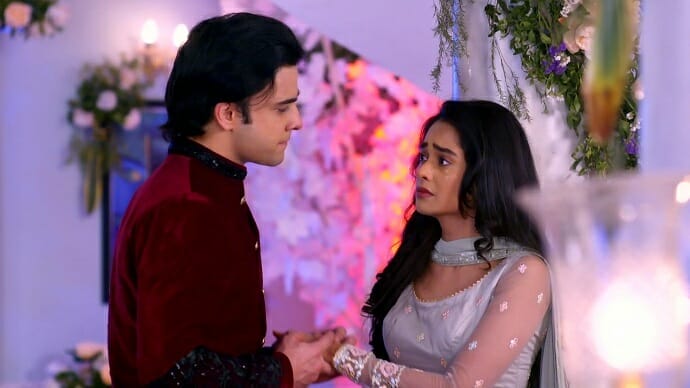 Kumkum Bhagya 31st October 2022 Written Update On TellyExpress.com
The episode starts with Shahana deciding to prepare tea for everyone. She doesn't notice Rhea's report is stuck to her sandal. On the way, Tailor thinks if Alia revealed his name to the police. He calls Alia to know it. Yamini notices Tailor is calling Alia. She asks why he is calling her repeatedly. Alia says you called him here so he may call to know what happened. Tailor prays to God to save him. Shahana serves tea to everyone. Yamini notices some paper is stuck to Shahana's sandal and takes it. She says it's some report. Rhea makes her leave the paper then Rhea notices it's her report. She tears it saying it's a waste paper and goes to throw it in the bin. Dida says she is tired and needs to sleep. Prachi takes Dida. Yamini asks Alia to call Tailor. Alia calls him and says he is out of network. Yamini says they can ask him when he comes.
Dida refuses to take tablets but Prachi makes Dida take her tablets. Ranbir notices everything. Dida asks Prachi to sing Lohri for her. Prachi refuses. They see Ranbir near the doorstep. Ranbir says sorry and leaves. Dida says she feels he left after telling I love you. Prachi asks her to not stress herself and asks her to sleep and tells her she will return in 15 minutes.
Ranbir recalls Prachi's care. Prachi comes out and is about to leave but Ranbir stops her by holding her hand. He asks why can't she asks him why he stops her. Prachi asks what's the matter. Ranbir takes so much time. Prachi sits in a chair and asks him to finish it soon. Ranbir admires her. He tells her she is so good. Prachi asks him to tell her what she doesn't know. Ranbir says he is bad. Prachi says he is a kadoos. Ranbir asks why she felt so. Prachi asks why he cares for Rhea more than needed. Ranbir calls her jealous. Prachi leaves in anger.
Ranbir comes to the hall and asks didn't tailor come. Someone rings the calling bell. Yamini asks the constable to open the door. The tailor enters the house. Yamini questions what's his name. Tailor says he is Sukesh. Yamini questions him about where learned to make firecrackers dupattas. Sukesh tries to escape but Ranbir and others catch him. Yamini questions him about who ordered him to prepare that special dupatta. Sukesh says Alia ordered it. Everyone gets shocked. Alia says he is lying and asks him to reveal the truth. Ranbir asks Alia how can she do it. Rhea says he can't talk to Alia in this way. Ranbir says there is proof against Alia I.e her message. Vikram also scolds Alia. Alia falls on her feet. She asks Tailor who gave him money to trap her. She asks him to reveal the truth. Sukesh says Alia man ordered the dupatta but who wants to kill Prachi is not Alia. Everyone looks on. Sukesh says it was Pallavi who wants to kill Prachi. Everyone stands shocked. That time Sukesh escapes from there. Yamini, Ranbir, and others try to catch Sukesh but he hides from them. Alia asks if Sukesh take Pallavi's name. Rhea agrees. Prachi says he is lying that's why he ran away.
Pallavi says I know he blamed me to escape from here but we need to know who wants to kill you as they are targeting our family. She says where they can feel safe if they can't feel safe at home. Rhea says they have to find who's that person as sometimes I feel someone is spying me. Shahana asks why she didn't reveal it before. Alia asks Shahana to not involve in family matters. Aryan intervenes. Alia asks him to shut up. Vikram asks Alia to control her frustration. He says Aryan is correct that we are family and we need to find who's that culprit but now we need to take a rest. Sid returns home. Vikram asks where is Ranbir. Sid says he went behind the tailor and I return as I got hurt. Vikram asks him to take a rest and assures Prachi that everything gets settled soon. Prachi says she is not worried as she has their support.
Episode ends.
Also See: