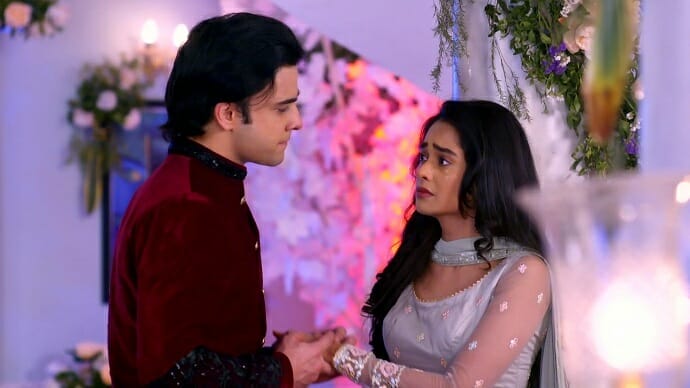 Kumkum Bhagya 3rd November 2022 Written Update On TellyExpress.com
The episode starts with Prachi asking Rhea to undergo a DNA test to prove that she is carrying Ranbir's baby. Rhea asks what are you saying. Prachi says you doubted my pregnancy so I'm doubting your pregnancy and I feel this is not Ranbir's baby. Alia says Rhea won't undergo any tests. Prachi says then I won't marry Sid. Alia says all marriage arrangements are done. Pallavi stops Alia. She says Prachi is pointing at our reputation, we know Rhea is carrying Ranbir's baby so let's clear her suspicion as I don't want anyone to point us. She asks Rhea to go for a DNA test the next morning to shut down Prachi. She says tomorrow evening will be Sangeet and the next day Prachi's marriage will happen with Sid. Rhea gets tensed. Everyone leaves.
Rhea goes to her room in tension. Alia enters behind Rhea. Rhea tells Alia that she may get exposed if she undergoes a DNA test. Rhea and Alia blame each other. Rhea says she can't take this stress anymore and she may die. Alia says it's just a panic attack. She asks Rhea to relax and asks her to talk with her Doctor friend Madhurima about doing a fake DNA test. Rhea agrees and calls her.
Prachi thinks this test will prove if Rhea is pregnant or not. Prachi thinks they are twins but different from each other in mentalities. She senses something and turns. She notices Ranbir. Ranbir thanks her. Prachi asks why. Ranbir says you know and leaves. Prachi says she doesn't know. Ranbir returns and says to Prachi that he will be happy knowing that she is the one who is going to be the mother of his child. He says to her she is near his heart and leaves. Prachi feels good. Prachi tells her baby that they need to be with their dad always.
Sid in tension thinks about his sister. Prachi comes there. Sid scolds Prachi for risking his sister's life. Prachi assures him that nothing will happen to Mihika. She asks him to wait for tomorrow as Rhea and Alia will be exposed and Mihika will be saved. She says you will get your sister and I will get my husband. She says she needs Shahana's help and calls her.
Alia asks Rhea why she is not attending calls. Rhea says she doesn't know. Alia asks her to call her again. Rhea calls her. Madhurima attends the call. Rhea asks Madhurima to perform a fake DNA test on her. Madhurima says she will charge more. Rhea agrees to pay the money and asks her to do the work correctly. Pallavi walks in on them. Rhea drops the phone. Madhurima realises someone came. Pallavi asks Rhea what happened. Rhea says nothing. Alia asks Rhea to share her feelings with Pallavi as she understands you. Rhea looks on. Alia says Rhea can't reveal so I'm telling you, Rhea is feeling humiliated by Prachi's accusations. She says Rhea will be tense until the DNA report is out. Pallavi hugs Rhea. She says no need to wait for tomorrow so let's do the DNA test today itself. She goes to talk with Ranbir. Rhea scolds Alia. Alia stops her and asks her to call Madhurima to manage the situation. Pallavi returns and takes Rhea with her for the test.
Prachi thinks Sid is correct in his place, Rhea can do anything in anger. Dida happily hugs Prachi and praises her idea of Rhea's DNA test. Dida says Ranbir will stop this marriage once the results came negative and this DNA test will settle everything. Ranbir comes there. Prachi tries to stop Dida but she doesn't. Dida says Ranbir won't let you leave him once he finds he is not the father of Rhea's baby as he loves you. Prachi and Ranbir are lost in each other eyes.
Episode ends.
Also See: