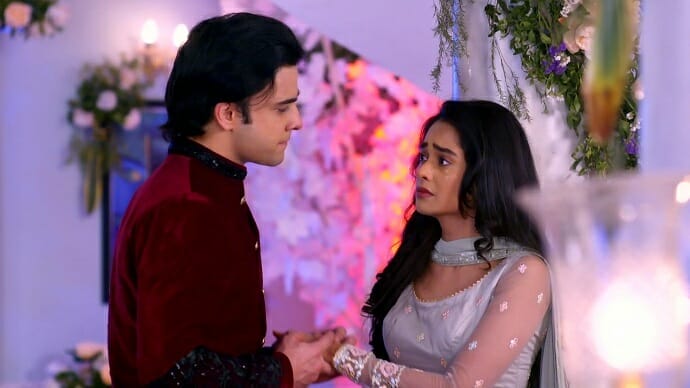 Kumkum Bhagya 4th January 2023 Written Update On TellyExpress.com
The episode starts with Rhea saying to Prachi if I am lying then my soon to be born baby will be born dead. The doctor comes there and says nobody will die due to your lie, as you have no baby in your womb. Everyone gets shocked. The Doctor reveals Rhea's lying with the original report. Alia says he is lying. Rhea says they got the report from the hospital. The Doctor says the report they got is the wrong one. Alia asks how to believe the report he is showing is genuine. The Doctor says the report cant be altered in the mail and he shows the mail to them. Alia asks why he came here and who called him to involve in their family matter. Prachi says she called Doctor to prove to everyone that Rhea is not pregnant. Alia scolds Prachi for troubling Rhea. Ranbir asks Alia to not involve between the sisters, and let them talk and you lost your right long back to talk about anything. Alia asks Pallavi why she is not stopping Ranbir. Pallavi says Rambir is correct. She asks Rhea to answer Prachi's questions. Rhea says you feel me as culprit them punish me and make Prachi win and this Doctor is arranged by Prachi that's why he talks in her favor. The Doctor asks Rhea to stop blaming his integrity and he shows CCTV footage of how Rhea tried to bribe him to hide her fake pregnancy.
Rhea says everything is fake and Prachi is not pregnant and I'm pregnant. Prachi removes the fake belly from Rhea's stomach. Everyone gets shocked. Prachi asks if she wants to talk anything. The doctor says there is nothing to talk about as everything is proven. Rhea says she doesn't want to answer anyone as I'm going to die and Prachi will be responsible for it. She leaves. Prachi is about to follow her. Ranbir stops her. Alia asks Ranbir to stop acting stone hearted. He leaves Prachi. Pallavi says to Alia that she doesn't want to fall on her level by arguing with her. Rhea hears someone is coming. She decides cutting her hand is safe. Prachi knocks on the door. Rhea says she will die. Prachi comes near a window and requests Rhea to not commit suicide and tells her that she has her. Rhea asks where is Ranbir. Prachi says he didn't come here. Shahana comes there and asks Rhea if she is really committing suicide. Rhea cuts her hand. She tells she doesn't want to live as she doesn't have anyone and her sister ruined her life and I may stop committing suicide if Ranbir stopped me but he didn't even come here so I don't want to live. Prachi says I care for you so don't harm yourself. Prachi asks Shahana to call Ranbir. Shahana says he won't listen to me. Prachi goes to call him.
Alia says she followed another way to get the result when it doesn't come directly. Pallavi asks her to stop justifying her actions. She confronts why they cheated on her. Vikram says to Alia that she lost everyone because of her nature. Alia asks him to stop talking about her and tells him she doesn't want his reward. Pallavi says I don't want to stoop to your level by arguing with you so get out of my house right now. Vikram supports Pallavi and asks Alia to leave. Aryan opens the door for Alia. He breaks off his relationship with Alia and asks her to never meet him again. Pallavi says Aryan is like Purab. Alia asks her to stop it. She says she will talk to Rhea later and leaves the house. Prachi comes there and asks Ranbir to save Rhea. Ranbir refuses. Prachi pleads with Ranbir to save Rhea and takes him with her. Prachi asks Rhea to open the door. She shows Ranbir to her. Rhea says Ranbir wants me to die that's why he didn't try to stop me. Prachi swears on herself and asks Ranbir to save Rhea.
Episode ends.
Also See: