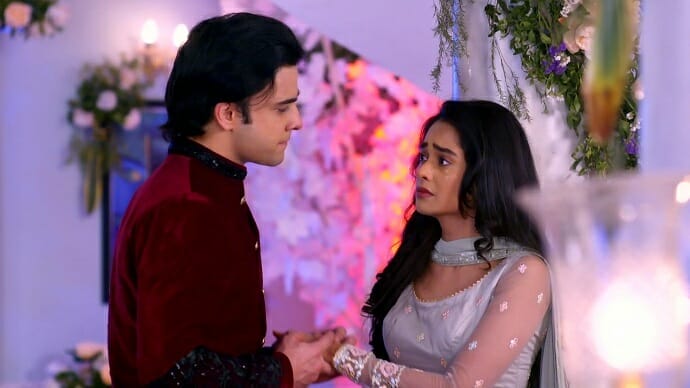 Kumkum Bhagya 4th November 2022 Written Update On TellyExpress.com
The episode starts with Dida saying to Prachi that everything happened for good as I can see your and Ranbir's love is getting stronger. Ranbir and Prachi stare at each other. Dida smiles seeing them. Ranbir indirectly says everyone understands it except Prachi. Dida smiles. Ranbir is about to leave. Dida asks him where is he going. Ranbir says he is going to take Rhea to the hospital for a DNA test. Prachi asks isn't it tomorrow. Ranbir says mom preponed the program. He leaves. Dida asks Prachi to accompany Rhea and Ranbir to the hospital. Prachi asks why. Dida says Rhea may change reports to defeat you so it's good to spy on her activities. Prachi thanks her for the idea. Vikram on call shouts at someone. Pallavi asks him why he looks upset. Vikram asks if she has the right of getting upset. Pallavi says it's fine if you don't want to tell me, seems like you're upset about the Office matter. He says he is upset with her. Pallavi asks what he meant. Vikram says he is tired of regular fights in the house. Alia overhears their conversations. Vikram blames Pallavi for the mess in the house. Pallavi asks him to tell her directly. Vikram says Prachi is daughter in law and daughter of this house and I felt bad seeing the way you humiliated her. He warns her to not behave with Prachi in this way. He leaves. Alia tries to stop Vikram but he leaves.
Alia meets Pallavi and tells her that it's the first time she is witnessing this kind of behavior from Vikram with her. She says Prachi is behind Vikram's change. Pallavi says Prachi can't act anymore as she is going to leave the house soon and I won't forgive Prachi for spoiling my relationship with my son and husband. Alia smiles.
Prachi stops Ranbir and tells him that she wants to accompany him to the hospital. Rhea comes there and asks if she is coming to know if she is undergoing a test or not. Ranbir manages saying Prachi is coming for her regular checkup. Prachi occupies the front seat and teases Rhea to sit back. They reach to hospital.
Rhea asks the receptionist about Madhurima. Nurse informs her Madhu is not available and advises her to consult Preethi. Rhea says she wants Madhu for her DNA test. The nurse says Nurses will take samples so Preethi is also fine. Rhea says it's good if they know Doctor. Preeti comes there and talks to Prachi. Prachi introduces Preeti to Ranbir and tells him that she is Sarita's neighbor. She asks Preeti to do Rhea's DNA test. Preeti agrees and takes Rhea with her.
Pallavi cries recalling the way Vikram talked to her. Alia consoles Pallavi and asks Pallavi to oust Prachi by getting her married to Sid then situations at home get settled. Pallavi says she is right and calls someone. Dida comes there and informs them that Sid goes missing and his room is messy like someone kidnapped him. They go to check his room.
Preeti asks Rhea about her pregnancy details. Rhea feels tensed. Prachi asks Ranbir if he trusts her? Ranbir says to Prachi that she will get the answer she wants and she likes it too. Rhea tries to send away the doctor by spilling some water on her. Rhea apologises to the doctor for spilling the water. The doctor says there is no need and goes outside to throw the tissue paper. The doctor says to Ranbir and Prachi that she came out to throw the tissue. Rhea tries to call Dr. Madhurima.
Pallavi, Daljeet, and Alia come to Sid's room and sees that the room is completely messed up as if there was a struggle. Daljeet says she looked for Sid in the house and says she didn't find him anywhere. Daljeet says someone might have abducted Sid. Alia thinks who did this as she didn't send anyone to abduct Sid. Pallavi calls Vikram. Alia tries to call someone. Alia gets a call from Rhea. Pallavi asks Alia if the phone is from Sid. Alia says no and says it's from work. Alia goes to take the call. Vikram comes and asks them what happened. Daljeet says to Vikram that Sid is missing.
Rhea calls Alia and says she is in a tight spot. She says Dr. Madurima is not here and says the doctor who is appointed to do the test is someone Prachi knows. Rhea says she is cornered from all sides. Alia tries to calm Rhea and tell her what happened in the house but Rhea doesn't allow her. Rhea sees Dr. Preeti coming and asks Alia to do what she said and cuts the call. Alia calls Dr. Madurima.
Episode ends
Also See: