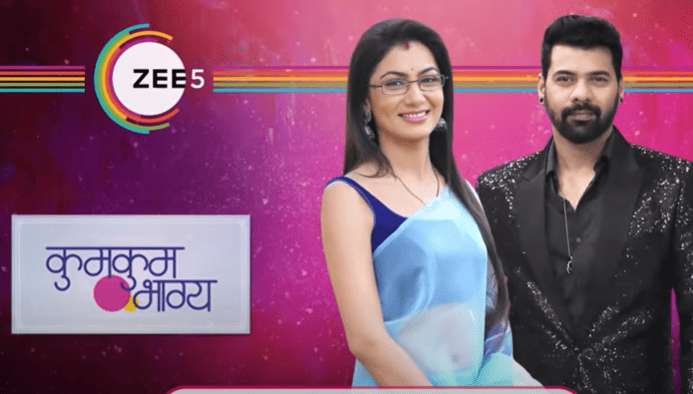 Kumkum Bhagya 7th February 2022 Written Update on TellyExpress.com
The episode starts with Ranbir saying these medicines are for baby's growth and whoever takes is pregnant. Prachi is shocked. Ranbir closes the laptop and asks her to answer. Prachi says you're concluding it not asking and you did the same in Sidhant matter. Ranbir says these are different. Prachi says in both situations it's me and previously you said I'm characterless seeing me with Sidhant in a room and now when you think that I am pregnant, you will ask if I am pregnant with Siddharth's baby. Ranbir gets angry and raises his hand on her. Prachi is shocked. Ranbir realizes his mistake and apologies to her for doubting her character and he says I know that you won't forgive me but I will Apologize to you for my whole life and you gave best husband title to me but I won't deserve it as I failed to fulfill the promises to you and he begs her to forgive him for raising his hand at her and I'm the one who breaks the trust so please tell if you're pregnant.
Prachi says we are not pregnant and I don't want to become the mother of your baby. Ranbir asks her to don't say it and I know that we are pregnant so agree. Prachi tells I'm not pregnant and I don't want to carry your baby. Ranbir tells she is lying. Prachi says I never talked with you about baby as my career and future are important to me. Ranbir says you're lying as you're not concerned about your career and where you're taking rest as you're pregnant. Prachi says it's the realization as my husband earned so much then what's the need of me to earn and we are not pregnant. Ranbir says he doesn't trust her. Prachi says I know you won't trust me that's why you doubted me and I loved you but my career is important to me and what if your baby is like you then I will be confused thinking about whom I hate more. Ranbir cries. Prachi tells she loves the distance between them and can't live happy with your reminder. Ranbir is about to leave in tears than Prachi stops and tells him that she forgot his dreams and asks him to forget his dreams as they won't get fulfilled in this birth. Ranbir leaves in tears. Prachi and Ranbir cries badly in their rooms. Ranbir breaks the things in his rooms. Prachi feels bad hearing the sounds.
Rhea comes to Kitchen and she asks Aliya and Pallavi why they looks tensed. Aliya tells Rhea, you are going on to honeymoon so think of place. Rhea says it's not a good time from Ranbir's side. Pallavi says she will handle him and asks if she wants it or not. Rhea asks what if Ranbir gets upset with this idea so it's better if we go on honeymoon later. Aliya and Pallavi recalls Ranbir closeness with Prachi. Aliya asks her to not question them. Pallavi asks her to not worry about Ranbir as I will inform him to take you on honeymoon and she leaves to talk with him. Rhea thinks Ranbir will deny.
Dida asks Ranbir where is he going without meeting her. Ranbir tells he is going for meeting and takes her blessings then he sees Shahana and tells her that he did mistake by seeing her medicines in Prachi's room, what to do. Prachi comes there. Ranbir tells let's talk later then he sees his Mom and asks why she looks tensed. Pallavi says everyone is smiling at me and matter is on my image. Ranbir asks what she meant. Pallavi says everyone expected reception which didn't happen so they are saying I'm kanjoos that's why I didn't send you guys to honeymoon. Ranbir says he understood what she want to say and he recalls Prachi's words and asks Rhea if she can come with him to Manali for her honeymoon. Rhea agrees to go with him. Ranbir sees Prachi.
Episode ends.
Also check: