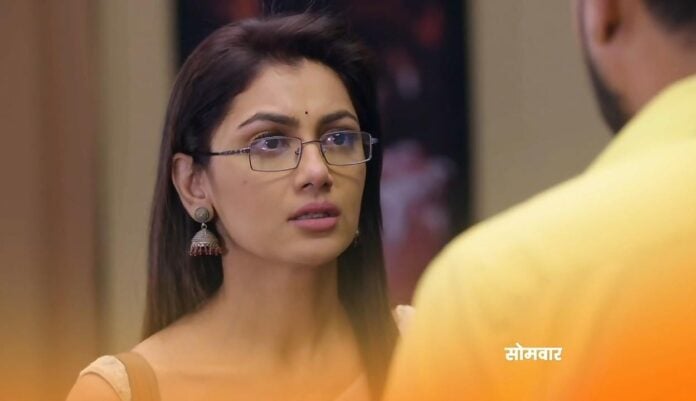 Kumkum Bhagya 8th December 2020 Written Update on TellyExpress.com
Episode starts with Pragya in tears listens Abhi message that he gonna meet her and she thinks may be Abhi agrees for marriage when he is drunk or maybe he is calling me to tell about his marriage and she leaves worriedly. Saritha prays to unite them.
Dadi says Abhi cant stay happy with this marriage and noone an get happiness. Rhea says I feel happiness with this marriage. Aliya says did you got your answer. Dadi says she is kid and don't know about situations but we know right. Mitali says it's their decision. Dadi says Daljeet may feel sad if she is with us and Raj please explain to them.
Raj too supports Abhi decision. Dadi cries and wishes Daljeet to be with her to explain. Aliya says Dadi is not with us because of Pragya and it's better they are getting seperated completely. Dadi says she is not happy with Abhi Marriage with Meera. Aliya asks her to leave from home if she can't accept the marriage. Dadi cries.
Prachi tells to Ranbir that Rhea is her sister and Abhi is her father and she got to know it recently and the relation broken before its get connected. Ranbir looks shocked. Prachi says I feel Pallavi aunty is upset and want to tell to something to me but she gets interrupted by doctor. Ranbir says nothing and thinks I can't fulfil my promises to you Prachi and he cries. Prachi wipes his tears and assures him that his Mom will get fine very soon and she leaves.
At outside of hospital Prachi gets dashed with Abhi car and he gets worried seeing her wound and cleans her hand. Prachi says Dad, you used to take care of me even without knowing I'm daughter. Abhi says my heart knows you that why we used to feel connection. Prachi hugs him happily. Both gets emotional.
Prachi says she used to feel sane connection and she asks him to explain to Rhea so they can unite as family. Abhi says leave about her. Prachi says how to leave she throwed me and insulted mom. Abhi says sorry but Rhea is not bad at heart. Prachi says she is bad otherwise she won't do in this way.
Abhi says stop it. Prachi says you don't know how Rhea insulted Mom and I can never forgive her. Abhi says leave to home and I will sort out everything. Prachi says nothing will sort out. Abhi says ask your Mom she will tell you, I can set anything and Rhea is spoiled because she don't have mother but she is not bad and take care of your mother and he goes to meet Pallavi.
On the way Pragya in tears reminsces her moments with Abhi and thinks she can't bear if he marries someone.
Vikram asks nurse to clear their bills do they can go to home. Abhi hugs Vikram and scolds him for not informing Pallavi condition to him before and he tells everyone that Pallavi will get fine and he goes to meet Pallavi. Pallavi asks why you came to meet me leaving your work. Abhi says you're also becoming emotional and I rushed to here in tension.
Pallavi says I know because you didn't get any chocolates or flowers for me. Abhi asks her to take care of her health saying she have to handle so much in future. Beeji asks what are they discussing. Pallavi says he is talking about Ranbir Marriage with Rhea. Abhi gets worried saying he have to meet Pragya. Vikram asks what's the matter. Abhi says Pragya is my wife and Prachi is my daughter. They gets shocked. Abhi rushes to meet Pragya.
Click to read: