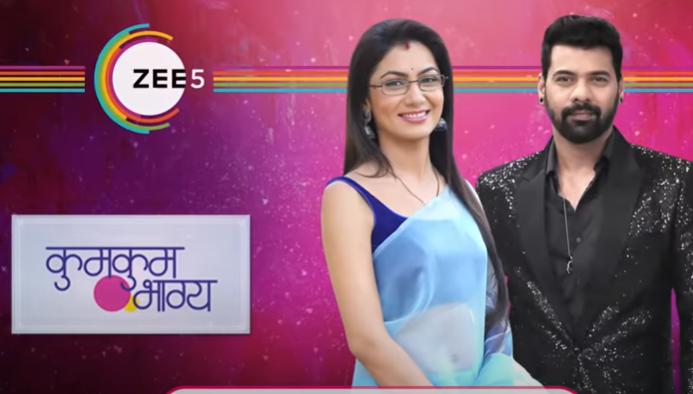 Kumkum Bhagya 8th June 2022 Written Update on TellyExpress.com
The episode starts with Prachi asking why she feels he is hiding something. Ranbir sees Sudha and diverts Prachi by dancing with her. Stanley goes to serve a spiked drink to Rhea but Dida ends up drinking it. Khanna says they are dancing like a couple. Vikram says they are wife and husband. Rhea looks on. Prachi says she doesn't like this song. Song changes immediately. She gets surprised. Ranbir dances with Prachi for Teri meri Kahani's song. Rhea gets angry and interrupts their dance by spilling a drink on Prachi's saree then she blames waiter for doing it.
Prachi goes to clean her saree. Ranbir goes to help her but he ends up tearing her saree. Sudha says let's return home as it's my medicine time and seems like Ranbir is not interested to buy the house. Stanely stops them telling Ranbir asked him to take care of them. He takes them to the room. Khanna asks Vikram about Prachi. Vikram says they consider Prachi as their Bahu. Pallavi takes him aside and scolds him for telling it. Alia asks Rhea if she is thinking about her challenge. Rhea says today is the 6th day and Prachi will leave from here for sure. Stanely thinks he doesn't know whom to take care of.
Prachi asks if he is doing it to stop her from entering the party. Ranbir asks why he thinks it. Prachi says Rhea told your business partner that she is your wife. Ranbir says to tell him that it's not. Prachi says then Rhea will insult me. Ranbir asks her to give it back. Prachi says you're a hypocrite. Ranbir says people will think you're weak if you won't answer back. Prachi asks if he wants to show her that he cares for her. Ranbir tells her he cares for her. Prachi asks him to stop flirting with her. Ranbir asks her to tell why she is angry. Prachi indirectly tells him that she is angry with him for spoiling their relationship using saree as an example. Ranbir understands it and he tries to touch her but she doesn't allow him and tells he doesn't have any right. Ranbir says you can snatch every right but you can't stop me from loving you and he tells her that he has right on her and tells he will set her saree. Prachi asks what about Rhea right on him.
Rhea searches for Ranbir and she talks curtly with Alia. Alia thinks she has to make Rhea remind that I'm her aunt. Dida takes Rhea with her. Pallavi thinks why Dida is taking her. Ranbir asks why she questions him about Rhea? Once remove her from our topic. Ranbir couldn't put the thread in the needle. Prachi asks him to give her but he didn't say he will do it and drops it and they couldn't find it. Prachi says he didn't listen to her and questions why he didn't listen to her. Ranbir says he will listen to her and takes her out her sarees. He chooses one saree and asks her to wear it. Prachi goes to change her saree. She notices the washroom is wet and confronts Ranbir. Ranbir recalls it happened because of him. He asks her to change and is about to leave the room but he notices it's jammed.
Stanley removes his fake beard. He hears footsteps sound and hides in the cupboard. Dida brings Rhea to the room. Pallavi asks why she brings her to the room. Dida says Rhea spoiled our happiness and she is making you bad a mother in law and mother. Pallavi asks who made her drink. Stanley thinks he did it by mistake. Dida opens the cupboard and asks Rhea to leave packing her luggage. Rhea says she won't leave anywhere I'm married and tonight Ranbir is going to propose me.
Episode ends.
Also check: