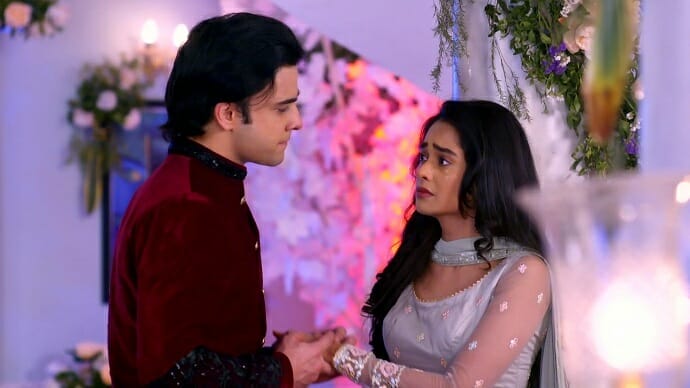 Kumkum Bhagya 9th November 2022 Written Update On TellyExpress.com
The episode starts with Alia asking Rhea if she saw Prachi when she was having a DNA test. Rhea says she didn't see Prachi there. She asks Alia why is she asking her? Alia says she suspects Sid and Prachi are playing a game with them. Rhea worries about what Alia said and asks what are they going to do? Alia says to Rhea that they are going to use the situation to their advantage and tells Rhea what to do.
Shahana comes and says to Prachi that Ranbir is losing his mind. Prachi asks why is that? Sid comes and says Ranbir thinks they are getting married. Prachi says she already talked to Ranbir about it yesterday. Sid says when Ranbir sees Sid he becomes a jealous boyfriend. Sid asks Prachi what are they going to do about Rhea and Alia. Shahana also says they might have suspected that they are up to something. Prachi says the arrow is already out and they can't do anything. Prachi says now they will face them head on. Prachi says this day is very important for them. Prachi says to Shahana to keep a lookout on the door and when Rhea's reports come Shahana has to make sure that Rhea's report doesn't fall into the wrong hands. Prachi also reminds them that making sure Mihika is safe is everyone's responsibility. Sid also agrees and says today is very important to both Prachi and himself.
Prachi tries to provoke Rhea so that she will make a mistake. Rhea recalls what Alia said about Prachi and Rhea playing a game with them. Prachi and Rhea challenge each other. Rhea says she will make Prachi marry Sid after the Sangeet. Prachi challenges Rhea saying she will make Rhea's truth come out in the Sangeet.
Shahana sees Aryan and Minni talking happily. Stanley greets Shahana. Stanley asks Shahana if Aryan is her boyfriend. Shahana says no. Shahana goes to greet Minni. Minni thanks Shahana for telling Aryan to invite her. Minni praises Shahana and says Aryan talks a lot about her. Shahana comments on what Minni said. Aryan leaves from there and Minni goes after Aryan.
Rhea sees Pallavi and praises her saying she looks stunning. Pallavi says she is very happy today and says she called all the reporters that wrote bad news about Sid and Prachi. Pallavi says she is going to introduce Sid and Prachi as about to be married couple. Pallavi says when the reporters write about this in the newspaper it will be like a face slap.
Sid comes and asks Pallavi if Mihika came or not. Rhea says to Pallavi that Mihika couldn't come as she is not feeling well. Sid says then he has to go to see Mihika as she is not feeling well. Rhea says Mihika is not that sick. Sid says then she has to come here. Pallavi also agrees with Sid and asks Rhea to call Mihika here. Mihika comes with Alia. Alia apologises to Rhea for bringing Mihika here. Rhea says there is no need. Rhea leaves from there. Alia warns Mihika she knows what will happen if she is 5 feet away from her. Sid asks Alia what is she talking about? Alia leaves from there.
Prachi gets ready for the Sangeet. One of her earrings falls down. Prachi searches for her earrings. Ranbir comes and asks Prachi what happened. Prachi says she is searching for her earrings. Ranbir offers to help. Ranbir and Prachi find the earring and they both touch it at the same time. Ranbir and Prachi look into each other eyes and fall into a trance.
Episode ends.
Also See: