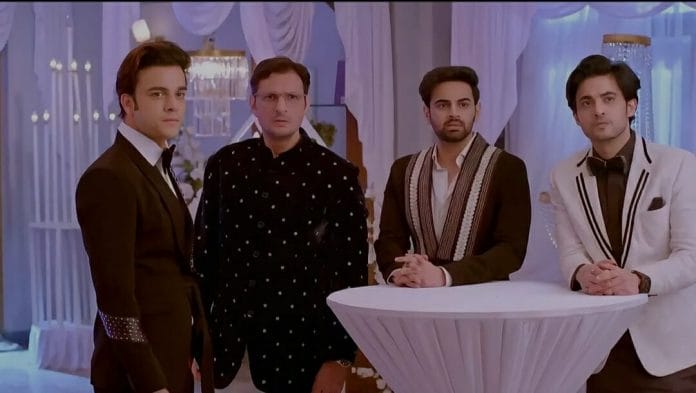 Kumkum Bhagya Spoilers, Upcoming Story, Latest Gossip , Future Story, Latest News and Upcoming Twist on tellyexpress.com
Zee TV Popular show Kumkum Bhagya is attracting viewers with an interesting storyline. currently, Alia comes up with a plan to destroy Kohli's the has glued the audience to the screens.

As reported earlier Pallavi arranges a reception party for Ranbir and Prachi. Alia asks Lawyer to tell her a way to ruin the Kohli family. The lawyer says to Alia that only with Rhea's complaint can there be a case against the Kohli family. Alia asks the lawyer to file the case against Kohli's family in her name.
The lawyer advises Alia then it will be a weak case. Alia gets angry with the lawyer and tells him to leave. Alia recalls what the lawyer said and thinks she has to wake up Rhea. Pallavi tells Priya that she forgot to send 4 invitations and asks her to send them.
Pallavi leaves. Alia comes there. Priya gives her an invitation assuming she is one of the guests. Alia reads the invitation. Priya checks the guest list and tells Alia that it's not for her but Alia leaves taking it. Priya didn't inform about it to Pallavi. Rhea cries recalling Ranbir's words.
Alia comes there and tells Rhea that you're crying here but they are celebrating Ranbir and Prachi's reception and invited very few members as they don't want any bad sight to fall on them but my bad sight is on them.
Alia asks Rhea to file a case against Kohli's family to snatch their happiness. Later reception party gets started. Alia enters the party which shocks Kohli's family.

In the upcoming episode, viewers are going to witness Ranbir will tell it is his marriage so Prachi's name will be with him on the card. Alia says let's know whose name must be on the card. A lawyer comes there and introduces himself as Rhea's advocate Manish.
He tells Rhea has filed the case against the Kohli family. He says it is a clear cut case of bigamy. Alia smirks.
Will Ranbir be able to save his family?

All these questions will be answered in the upcoming episodes.
To know what will happen next in your favorite show, keep checking this space for new and exclusive updates.