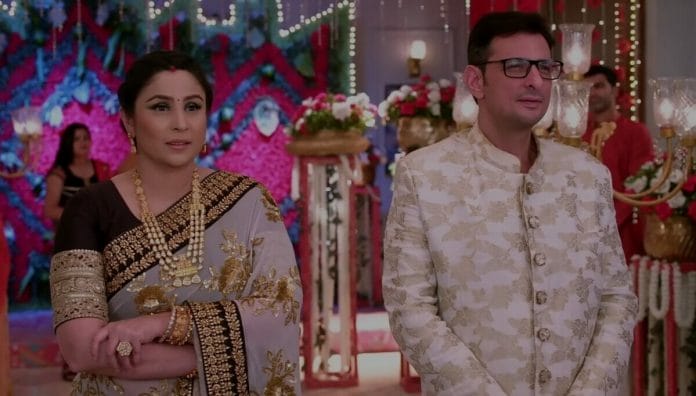 Kumkum Bhagya Spoilers, Upcoming Story, Latest Gossip , Future Story, Latest News and Upcoming Twist on tellyexpress.com

Zee TV Popular show Kumkum Bhagya is attracting viewers with an interesting storyline. currently, Ranbir makes Prachi's choice to win the game has glued the audience to the screens.

As reported earlier, Ranbir ousts Rhea from the house which turns out to be Rhea's dream. Prachi asks where she lost. Rhea gives her a gift and wishes her to have a good baby. Pallavi announces Gudda and Guddi game.
Ranbir makes Prachi win the game by touching the doll she chooses. Everyone claps for them. Rhea looks unhappy. Wendy notices it. She takes Dida aside. Wendy says I can sense what's happening with touch and I felt a dark vibe from Rhea and I feel she is not pregnant and if Doctor said it then she might be.
I told Pallavi also that Prachi baby will get good luck in this house and Rhea baby will get a bad fortune. Pallavi overhears everything. Dida asks when she become a fortune teller. You're not the one who decides about nakshatras and all.
Wendy says to send Rhea otherwise everything goes wrong. Everyone dances happily. Ranbir brings Prachi to the stage. He dances with her happily. Both lost in each other. Everyone claps for them.
Ranbir thanks everyone for sharing their happiness. He asks guests to leave after having food. Saina asks Rhea to come with her to her place. Alia nods to go. Rhea looks frustrated.
Ranbir asks Prachi to eat Dry fruit laddoo. Prachi denies saying she is full. Pallavi comes there. Ranbir asks Pallavi to make Prachi eat. Pallavi says I prepared them and I will be happy if you eat them.
Ranbir looks on. Prachi eats one. Pallavi asks her to finish them later. She leaves. Aryan says Pallavi aunty is changed. Mili says it's because of good news and she tells she wishes to have a mother in law like her.

In the upcoming episode, viewers going to witness Ranbir will follow Pallavi and asks her why she lied to Prachi that she prepared laddoos. Pallavi will manage him telling something and will tell Ranbir that she will remember her mistakes and asks him to forget her mistakes and forgive her. Ranbir will hug her. Pallavi smirks. Rhea will notice them.
Will Pallavi believe Dadi's prediction? Can Pallavi realize her mistake?
All these questions will be answered in the upcoming episodes.
To know what will happen next in your favorite show, keep checking this space for new and exclusive updates.