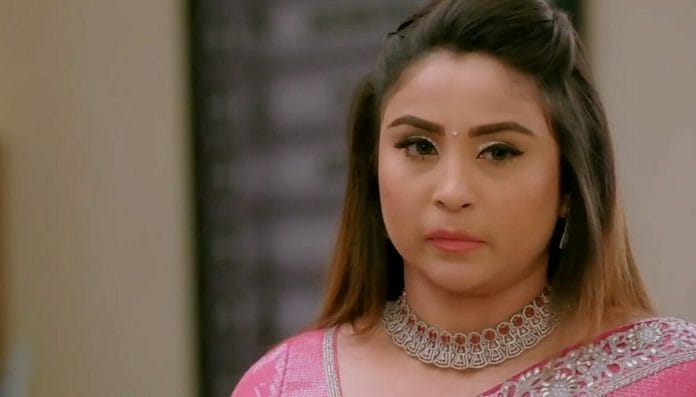 Kumkum Bhagya Spoilers, Upcoming Story, Latest Gossip , Future Story, Latest News and Upcoming Twist on tellyexpress.com

Zee TV Popular show Kumkum Bhagya is attracting viewers with an interesting storyline. currently, Everyone learning about Prachi's pregnancy has glued the audience to the screens.

As reported earlier, Pallavi demands Prachi to leave the house. Prachi gives her gift to Rhea. Rhea throws the gift away. Rhea says you bought this gift for yourself, not for me. When you couldn't become a mother you tried to kill me because I gave him his child that you couldn't.
Alia also asks Prachi to leave the house. Ranbir stops them. Pallavi asks Ranbir to stop. Pallavi asks Ranbir if he believes she is innocent. Pallavi says if he can then she will make Rhea apologize to her. Ranbir stays silent. Prachi is about to go out but she faints.

Ranbir calls Doctor. The doctor tells everyone that Prachi is pregnant. Rhea says she is not pregnant I am. The doctor says just because you are pregnant doesn't mean others can't become pregnant. The doctor and Ranbir take Prachi into the hospital on a stretcher for tests.
Vikram forgives Ranbir. Prachi gains consciousness and learns everyone finds that she is pregnant. Ranbir asks his mom to eat set. Pallavi refuses to eat and claims that it can't be his child.
Ranbir says Prachi is not pregnant now she is pregnant from 2 months and I know how many times I spent with her better than you. Ranbir declares that Prachi is pregnant and he is the father.
In the upcoming episode, viewers going to witness Alia will say to Rhea, now Prachi will live in this house and you will be out. Daljeet will say to Pallavi being a mother you are asking your son to do an abortion on his wife.
Ranbir will say to Rhea, I'm proud of Prachi being pregnant and your pregnancy is a mistake, in fact, sometimes I think are you pregnant or not.
Will Ranbir find the truth? Can Pallavi face the wrath of Ranbir?
All these questions will be answered in the upcoming episodes.
To know what will happen next in your favorite show, keep checking this space for new and exclusive updates.