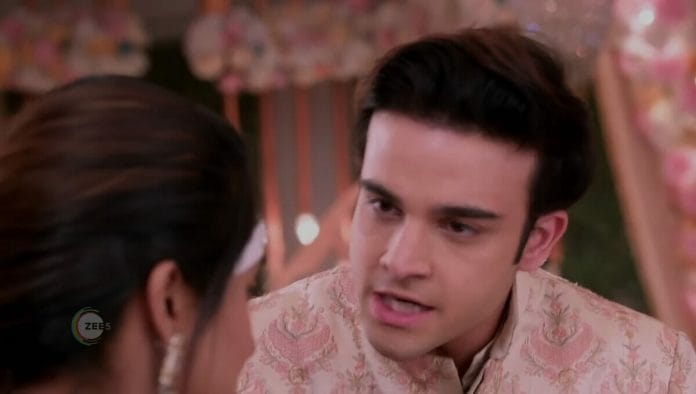 Kumkum Bhagya Spoilers, Upcoming Story, Latest Gossip , Future Story, Latest News and Upcoming Twist on tellyexpress.com

Zee TV Popular show Kumkum Bhagya is attracting viewers with an interesting storyline. currently, The doctor exposes Rhea's lies has glued the audience to the screens.

As reported earlier Rhea says to Prachi if I am lying then my soon to be born baby will be born dead. The doctor comes there and says nobody will die due to your lie, as you have no baby in your womb. Everyone gets shocked. Alia says he is lying. She asks why he came here and who called him to involve in their family matter.
Prachi says she called Doctor to prove to everyone that Rhea is not pregnant. Rhea says Prachi bribed the doctor. The Doctor asks Rhea to stop blaming his integrity and he shows CCTV footage of how Rhea tried to bribe him to hide her fake pregnancy.
Rhea says everything is fake and Prachi is not pregnant and I'm pregnant. Prachi removes the fake belly from Rhea's stomach. Everyone gets shocked. Rhea says she doesn't want to answer anyone as I'm going to die and Prachi will be responsible for it. She leaves. Prachi follows Rhea. She requests Rhea to not commit suicide and requests her to open the door.
Rhea cuts her hand and says she may stop committing suicide if Ranbir stopped her but he didn't even come here so I don't want to live. Prachi goes to call him.

Alia says she followed another way to get the result when it doesn't come directly. Pallavi asks her to stop justifying her actions and get out of my house right now. Aryan opens the door for Alia. He breaks off his relationship with Alia.
Alia leaves the house. Prachi swears on herself and asks Ranbir to save Rhea.

In the upcoming episode, viewers are going to witness Rhea will say Ranbir loved her first but this Prachi came between them. Ranbir says even if Prachi hasn't come between us then also we would have never united. He asks her to take her bag and leave their house and never come back. Rhea stands shocked.

Will Rhea and Alia stay silent? What's Rhea's next move?
All these questions will be answered in the upcoming episodes.
To know what will happen next in your favorite show, keep checking this space for new and exclusive updates.