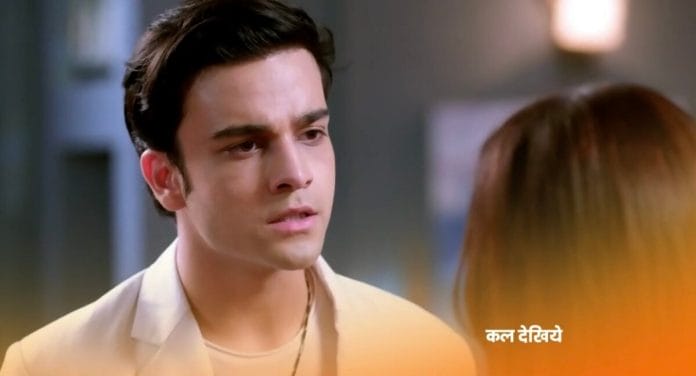 Kumkum Bhagya Spoilers, Upcoming Story, Latest Gossip, Future Story, Latest News, and Upcoming Twist on tellyexpress.com
Zee TV Popular show Kumkum Bhagya is attracting viewers with an interesting storyline. currently, Rhea interrupts Prachi, and Ranbir's dance has glued the audience to the screens.
As reported earlier, Dida ended up drinking a spiked drink instead of Rhea. Ranbir danced with Prachi. Rhea got angry and interrupts their dance by spilling a drink on Prachi's saree. Prachi went to clean her saree. Ranbir went to help her but he ends up tearing her saree. Sudha felt Ranbir is not interested to buy the house and they want to leave the party but Stanley stops them. Prachi indirectly told Ranbir that she is angry with him for spoiling their relationship using saree as an example. Ranbir understood it and he tries to touch her but she doesn't allow him and tells he doesn't have any right. Ranbir said you can snatch every right but you can't stop me from loving you and he tells her that he has a right on her and tells them he will set her saree. Prachi asked what about Rhea right on him. Ranbir asked her to not involve Rhea in their topic. He dropped the needle then he suggests to change her saree. Prachi noticed the washroom is wet and confronts Ranbir. Ranbir recalled it happened because of him. He asked her to change and is about to leave the room but he notices it's jammed. Stanley removed his fake beard. He heard footsteps sound and hides in the cupboard. Dida brought Rhea to the room. Pallavi asked her why she brings her to the room. Dida said Rhea spoiled our happiness. She asked Rhea to leave packing her luggage. Rhea said she won't leave anywhere as I'm married and tonight Ranbir is going to propose to me.
In the upcoming episode, viewers going to witness Ranbir will tell Prachi that he knows the truth, that we are pregnant and you are going to be my baby's mother. Prachi will get emotional.
Can Ranbir get Rhea to sign in the divorce papers? How Prachi will react to Ranbir's revelations?
All these questions will be answered in the upcoming episodes.
To know what will happen next in your favorite show, keep checking this space for new and exclusive updates.