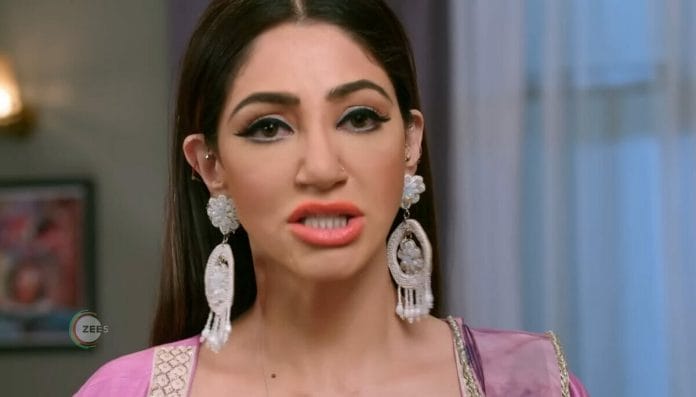 Kumkum Bhagya Spoilers, Upcoming Story, Latest Gossip , Future Story, Latest News and Upcoming Twist on tellyexpress.com

Zee TV Popular show Kumkum Bhagya is attracting viewers with an interesting storyline. currently, Prachi learns about Rhea's fake pregnancy has glued the audience to the screens.

As reported earlier, Alia calls Madhurima and gets to know that she can't reach to the hospital because of her car problem. Alia calls Rhea and advises her to manage Preeti offering money. Rhea agrees and is about to talk with Preeti but Prachi comes there. Preeti asks Rhea to go with the nurse for a DNA test. Rhea agrees. Prachi wishes her luck. At home, Pallavi and others hear some noise and go out to check what it's.
They notice Aryan and Sid are beating each other. Vikram and others stop them. Alia ask why they are thrashing each other. Aryan says he cheated in the game. Dida and others stop them. That time Rhea, Ranbir, and Prachi return home. Alia follows Rhea to her room and asks her to tell her what happened in the hospital.
Rhea says everything happened in my favor, as I took another lady's sample by acting like a doctor and we have to make sure no one gets that DNA report and we have to show everyone the DNA report which Madhurima prepares in our favor. Alia says smart move. Shahana overhears their plan.
She rushes to Prachi's room and reveals to Prachi that Rhea is not pregnant. Prachi says she doubted it before and reveals to Shahana that the nurse took Rhea's sample without her knowledge and report will be hers. Pallavi asks Sid to call his sister to Sangeet.
Sid asks Pallavi to tell Rhea as she is taking Mihika's responsibility. Pallavi meets Rhea and orders her to call Mihika to sangeet. Sid says he will leave from the Sangeet if Mihika doesn't come.

In the upcoming episode, viewers going to witness Ranbir will confess to Prachi that he is incomplete without her. Prachi gets impressed. On another side, Alia will tell Rhea that this time they don't need to plan anything but they need to fail Prachi's plan with their answer. Rhea agrees.

Can Prachi be able to expose Rhea's fake pregnancy? How Rhea and Alia will answer Prachi?
All these questions will be answered in the upcoming episodes.