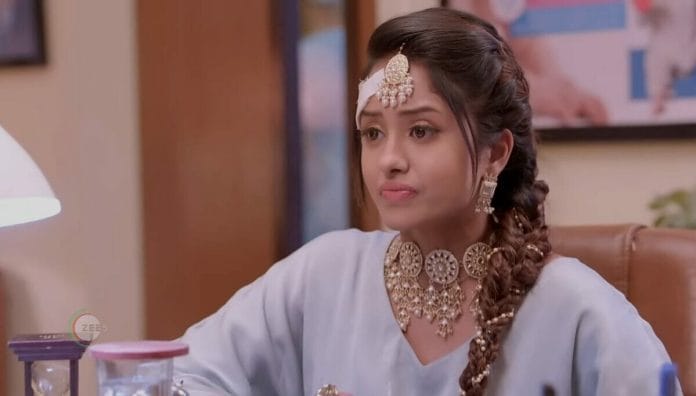 Zee TV Popular show Kumkum Bhagya is attracting viewers with an interesting storyline. currently, The Doctor declines Rhea's offer have glued the audience to the screens.

As reported earlier Rhea vents her frustration to Alia. Alia the her to not show the tension on her face. Dida brings Prachi to the mandap. Sid hurts Ranbir's ego. Ranbir calls Rhea and asks her to come for a DNA test. Rhea asks him to wait but he didn't listen and forcefully takes her asking others to continue the marriage.
The waiter drops juice on Aryan's dress. Aryan goes to change his dress. Pandit asks someone to cover the Bride and groom's faces. Alia covers their faces. Mili enters Aryan's room. She flirts with him and tells him that her answer is yes to his proposal which he did last year.
He tries to say he did it mistakenly but she tries to leave and collides with Shahana. Shahana asks her what happened. Mili says she accepted Aryan's proposal and leaves. Aryan says to Shahana that it's a misunderstanding. Shahana says you may be shy and she leaves saying she forgot why she came. Aryan follows her.

The doctor tells Rhea that she is not pregnant and is fooling the entire family. He says he will tell the truth. He asks why she is cheating on her loved ones. Rhea asks him to stop lecturing her and asks him how much money he charges to support her.
The doctor says I got test money and reports will talk. He asks Rhea to leave opening the door. Rhea leaves with Ranbir. Dida acts like she got a heart attack and stops the marriage.
In the upcoming episode, viewers are going to witness Rhea will tell Prachi that she will change her report like changing her destiny. Prachi says if Dida had not got unwell then I would have answered you and thrown you out of my house.
Sid will tell Ranbir that Rhea and Alia have kidnapped Mihika. Prachi will say to Rhea you are not pregnant. Rhea says you know my truth that I am not pregnant and I came to know that you know where is Mihika.

Will Ranbir believe Sid? Will Rhea get caught?
All these questions will be answered in the upcoming episodes.
To know what will happen next in your favorite show, keep checking this space for new and exclusive updates.