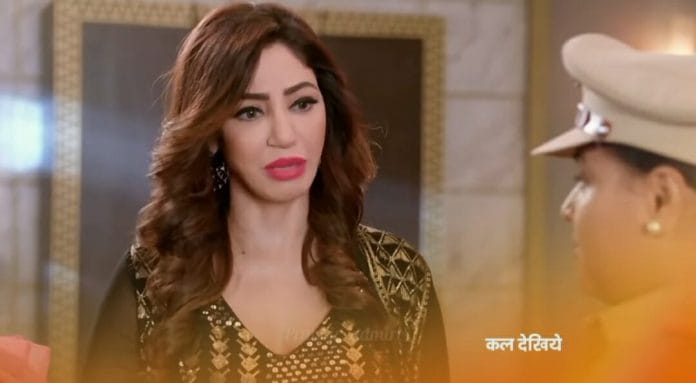 Kumkum Bhagya Spoilers, Upcoming Story, Latest Gossip , Future Story, Latest News and Upcoming Twist on tellyexpress.com
Zee TV Popular show Kumkum Bhagya is attracting viewers with an interesting storyline. currently, Ranbir calls the police has glued the audience to the screens.
As reported earlier, Ranbir scolds Prachi for not taking care of herself. Ranbir, Prachi, and Alia come to the hall. Ranbir asks Alia about Dupatta.
Alia says I bought dupattas for Rhea and Prachi but Prachi didn't receive the dupatta I bought and she shows the dupatta she bought. She says she doesn't know who tried to take revenge on Prachi. Alia sees Rhea and recalls how she places the same color dupatta to fool everyone.
Ranbir calls the police to investigate the case.
Police come to Kohli's mansion. Alia messages tailor about whatever happened. Police enter inside. Inspector Yamini asks who called her. Ranbir says he called her and introduces everyone to Inspector. He tells Inspector that someone tried to kill his wife with a firecrackers dupatta.
Inspector says it's an attempt to murder. She tells she will investigate everyone privately to trace the truth and it's needed to know who hates who. She asks Vikram and Dida to come first for an investigation. They agree.
In the upcoming episode, viewers going to witness Yamini will tell Vikram and Dida that Prachi is getting so much love here but she is getting attacked too.
She asks Sid if someone dislikes Prachi. Sid says yes. Alia tells Yamini that Prachi feels that Rhea is her favorite and she loves her, but it is not like that. Yamini will say I understood how much you love Prachi.
Yamini brings the tailor to Kohli's mansion and asks him who asked him to make the dupatta. He says Alia. Alia will get worried.

How Alia is going to escape from the situation? Who will save Alia?
All these questions will be answered in the upcoming episodes.
To know what will happen next in your favorite show, keep checking this space for new and exclusive updates.