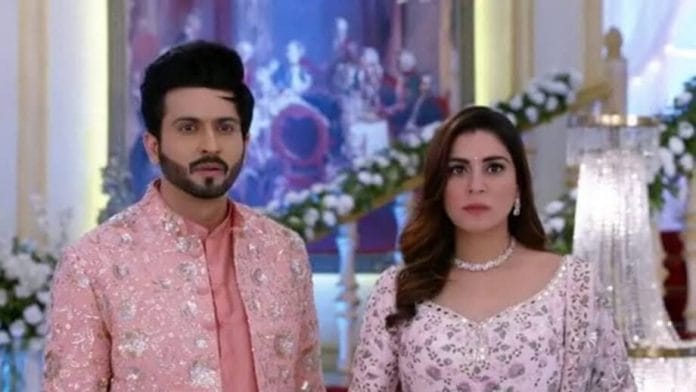 Kundali Bhagya 16th May 2022 Written Update On TellyExpress.com
Episode begins with Prithvi opens the parcel and reads the letter. He gives the CD to Sherlyn and asks her to play it. Meanwhile, Preeta goes to Sherlyn's room and notices the broken window. She confirms that Sherlyn took the parcel and leaves the room to find Sherlyn. On the other hand, Natasha tells Karan that she don't like to see him upset. She asks him to talk to Preeta about the things which affects him. She says that he forgot to drink after Preeta's arrival but he started drinking again. She asks him to stop the car. He tells her that he loves Preeta the most but Preeta only hurts him the most too. She asks him to drive carefully. He is about to meet with an accident but stops the car. Tempo driver also stops his tempo and scolds Karan. He notices that Karan is drunk and calls police to complaint about Karan. Public identifies Karan. Police comes there and arrests Karan and Natasha.
Prithvi and Sherlyn watches the video and sees that Rishabh is in jail. Sherlyn tells Prithvi that Luthras have not forget about Rishabh yet and what if they get to know about Rishabh. Preeta wonders that why that stranger throw the parcel in Sherlyn's room. She thinks that it can't be a coincidence because Sherlyn didn't inform anyone that someone throw parcel in her room. She says that Sherlyn must be in Prithvi's room only and moves towards his room.
Prithvi asks Sherlyn to not talk negatively. She tells him that she is talking practically. In the video, one prisoner tries to talk to Rishabh but the latter remains silent. He asks jailer about Rishabh's crime. Jailer tells him that Rishabh is here for selling drugs. He adds that Rishabh will be hanged after seven days. Prithvi and Sherlyn gets shocked seeing the video.
Police brings Karan and Natasha to the police station. Constable tells Police inspector that Karan is drunk. Natasha says that drinking is not crime. Police inspector tells her that drink and drive is crime. Natasha says that she was driving and she is not drunk. Karan asks her that what is she saying. She asks him to stay silent. She apologizes to tempo driver. Media reporters records everything.
Sherlyn asks Prithvi that what is written in that letter. He tells her that a number is written in that letter and they have to pick the call from that number. He picks the call and learns that Rishabh will be hanged if he didn't send 50 crores then. He says that he don't have 50 crores. Preeta hears him. Prithvi tells Sherlyn that if Rishabh died then he won't get Dubai properties.
Natasha apologizes to Police inspector and pleads him to leave them. He asks her to talk to tempo driver. She takes tempo driver aside and tells him that she is Karan's finance. She apologizes to him and gives her jewels to him. Tempo driver withdraws the case. Police leaves Karan and Natasha. Karan asks Natasha that why she said in the police station that she is his finance when Preeta is his wife. She tells him that she didn't had any other choice to save themselves. Meanwhile, Prithvi calls Saurabh and says that he needs 50 crores urgently. Saurabh tells him that he can arrange it if Preeta signed then. Preeta sees the video from outside and gets shocked seeing Rishabh.
Episode ends.
Also See: