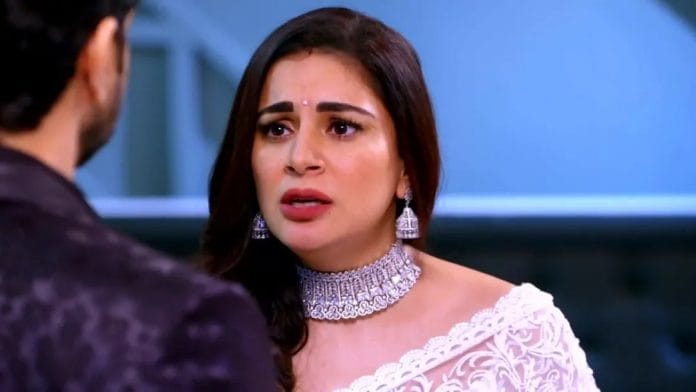 Kundali Bhagya 23rd January 2023 Written Update On TellyExpress.com
Episode begins with Arjun tells Luthras that now he is the owner of Luthra mansion. Rishabh tells him that they have 49% shares so how can the latter claim like this. Arjun reveals that his company and mirror company are partners so he have 51% shares now. Mahesh asks him to stop talking nonsense and leave from his house. Arjun asks Anjali to bring the papers from car. Anjali goes out. He tells Luthras that he is going to take over Luthra industries too.
Kareena takes Rakhi inside and she tells her that Arjun is not Karan. She says that she don't want Rakhi to go to depression. She tells her that if Arjun was Karan then he would not have tried to take over Luthra mansion. She says that Arjun will tell them to leave the house. Rakhi tells her that Arjun won't tell like that because he is Karan. She says that she will live with her trust and leaves from there.
Srishti asks Arjun that why he is doing like this. Dadi tells Arjun that she thought he is good person because he saved her family but she was wrong. Sameer tells Arjun that the latter is enemy to them. Preeta asks Arjun that if he really want to throw Luthras out of the house. She says that it's not just a house for them. Arjun tells her that it's just a business. Anjali brings the papers and she gives it to Rishabh.
Kavya returns from school and she gets happy seeing Arjun. She hugs him and she pours juice on him by mistake. Arjun goes inside to wash his clothe. Rakhi follows him. She thinks that Arjun is Karan that's why he know which one is his room. Arjun notices his and Rakhi's photo frame and he gets emotional seeing his belongings. He wears Karan's jacket and smiles. Rakhi records everything. She hides when Arjun turn around.
Anjali asks Preeta and Srishti about Vishwas. She reveals that she know they came to her house as fake IT officers. She goes to talk to Rishabh. Preeta receives courier. She gets shocked learning that Karan and Arjun's fingerprints matched and she tells about it to Srishti. She goes to tell the truth to Rakhi. Srishti tells herself that Arjun won't be Karan because Karan would never do like this.
Rakhi tells Dadi that Arjun is Karan. Dadi tells her that she is tired of explaining her. Rakhi tells her that she will show video to her. Dadi refuses to see the video and she tells her that the latter's behaviour is affecting this family. She says that she is also affected with Karan's death and he was not just grandson for her. She tells her that she cries alone because she did not want to hurt others. She says that everyone is hurt and cries. Rakhi apologizes to her. Dadi leaves from there. Rakhi says that one day Dadi will understand that Karan is alive and everyone will believe her.
Episode ends.
Also See: