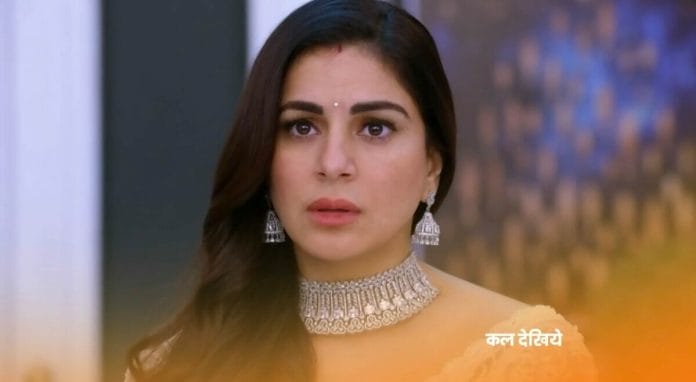 Kundali Bhagya 31st August 2022 Written Update On TellyExpress.com
Episode begins with Prithvi and Sherlyn learns that Arjun went to Luthra house to celebrate Ganesh Chathurti. Dadi asks them that who are they. They lies to her and leaves from there. On the other hand, Rakhi asks Dadi about Priest. Dadi tells her that she forgot to call him. Kareena says that she called Priest. They hears dhol sound. Dadi says that Beeji has not arrived yet with prasad. Srishti tells her that she brought prasad for puja. She says that Beeji and Janki bringing prasad for the guests. Priest comes there. Mahesh, Rishabh and Sameer brings Lord Ganesh's idol. They are about to drop Lord Ganesh's idol by mistake but Arjun holds it. Everyone gets relieved seeing that. Everyone dances.
Dadi begins the puja. Everyone does aarti one by one. Rishabh and Preeta does aarti together. Rishabh moves from there. Arjun joins Preeta. She gets shocked seeing him beside her. He smiles looking at her. She gives the aarti plate to Anjali. Puja gets over. Arjun wishes happy Ganesh Chathurti to Luthras. Rakhi thanks him for coming. Kareena says that Arjun is like a family member to them. Dadi says that she is thirsty. Preeta goes to bring juice for Dadi. She is about to drop the plate but Arjun holds her hand to help her. She pushes his hand and she pours juice on his shoes. She says that floor got ruined and goes inside. She brings tissue and starts cleaning it. He gets angry seeing everything.
Dadi asks Kritika that if prasad is ready. Kritika tells her that Aroras did not bring prasad yet. She says that guests may leave without prasad. Dadi asks Rakhi to call Beeji. Rakhi tells her that Beeji will come within 15 minutes. Prithvi's friend enters Luthra house. Prithvi hides behind him. He says that he made mistake by not disguising himself. He notices Luthras. He asks his friend to go and stand beside Luthras. Rishabh informs Mahesh and Dadi that he suggested Arjun to become business partner and Arjun accepted the offer. Sameer says that contract paper is ready. Prithvi hears everything. He thinks that he knows about it already.
Prithvi hides seeing Kritika. He thinks that he will end up in jail if she saw him then. Kritika goes to meet her guests. She turns around. He gets scared thinking that she saw him. He says that he did not prepare anything because of Sherlyn. He goes inside. Kritika notices his back side. She follows him.
Rakhi takes Priest to Preeta's room. She says that she wants him to bless this room by chanting mantras. She adds that she wants Preeta to get whole world's happiness. Priest tells her that he will try his best. He pours Ganga water in the room.
Arjun tells Preeta that it looks like she don't know what is manners. Preeta tells him that she is not a kid. She asks him that what she did. He tells her that her behaviour says that she is kid. He says that she ruined his shoes but instead of helping him, she is cleaning the floor. She asks him that what is his problem. He tells her that it's waste to talk to her. He tore curtain to clean his shoes. She gets shocked seeing that.
Episode ends.
Also See: