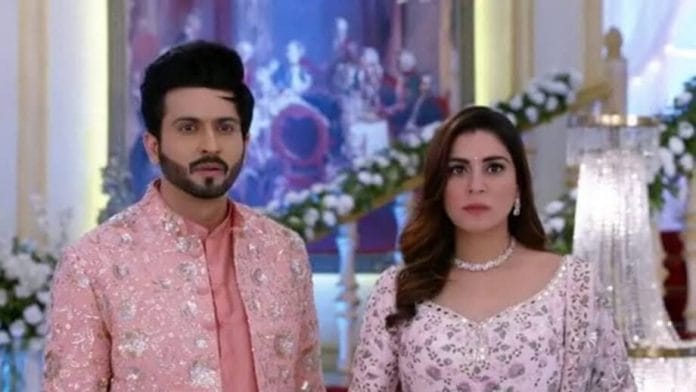 Kundali Bhagya 4th February 2022 Written Update on TellyExpress.com
Episode begins with Janki teases Preeta. Srishti asks Preeta to control her emotions because her facial expressions tells everything. Rakhi comes there and Preeta leaves from there. Srishti tells Rakhi that with time Preeta also changed and behaving like hitler that's it. Rakhi tells her that she don't care that how Preeta behaves because Preeta did so much for their family so she won't say anything against Preeta. Janki tells her that everything will be fine. Srishti thinks that they can't show their lovable side like this and leaves from there.
Sameer sees Srishti and thinks to talk to her. He tells himself that he won't back off and runs towards her with flower plate. She collides with him and they shares an eye lock. She is about to leave from there but he stops her by holding her hand. He wishes happy lohri to her and says that he is glad that she came for lohri celebration. He asks her to talk to him at least today. She tells him that she didn't forget that what happened two years back and leaves from there.
On the other hand, Prithvi wonders that when Shambhu will come with bomb. Srishti taunts him saying that he is afraid of Preeta. He tells her that he is not afraid of anyone. She tells him that she knows that he must be thinking to do something against Preeta. She warns him to not even think about Preeta. He says that she is talking like this because of her frustration that she could not do anything against him. She reminds him that they only send him to jail. He says that he likes to live in present and warns her to behave well with him otherwise she will regret and leaves from there.
Srishti meets Karan and tells him that she missed him so much. He tells her that he also missed her. He learns that Preeta complaint about him to her. She defends Preeta. She asks him that if he is trying to instigate her against Preeta. He asks her to join his team. She tells him that she will choose Preeta over him anyday. He says that she is still his hardcore fan and that fact won't change. She nods at him. He tells her that she can take Preeta's side. She sees Sameer and Karan notices that. He asks her to talk to Sameer because she took Preeta's side and Sameer took his side. She says that he may think that she is wrong but many things changed between her and Sameer. He calls Sameer and asks her to talk to Sameer for his sake and leaves from there. She also leaves from there.
Shambhu comes there and gives coconut bomb to Prithvi. He shows the mark to him to identity their coconut. Karan goes to Preeta and asks her that why she is ignoring him. She asks him to not fight with her again. He asks her that don't she feel jealous seeing him with Natasha. She tells him that she has many other things to do than feeling jealous. He tells her that she wants him to stay away from her so he will roam around her always.
Prithvi puts the coconut bomb on 'puja' plate. He distributes 'puja' plates to ladies. Sherlyn gets confused seeing that. He informs his plan to her. Sherlyn tells Srishti that she was happy without seeing her. Srishti tells her that she knows her true face. She is about to take the 'puja' plate but Prithvi stops her.
Episode ends.
Also Check: